Is There Uber In Morocco 2023 ? How to get around
Is There Uber In Morocco 2023?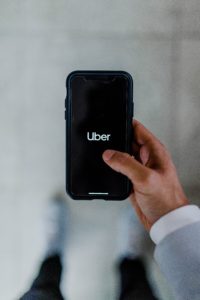 The worldwide transport firm, Uber, doesn't operate in Morocco anymore. they stopped in February 2018. Uber said that "Unfortunately, since our launch in Morocco, almost 3 years ago, we have not had any clarity about integrating applications like Uber into the existing transport model. That's why we make the difficult decision to suspend our activity in Morocco," 
There were many taxi drivers in Casablanca protesting against what they call it  "unfair competition" of Uber.
Uber alternatives in Morocco, How to Get Around Inside The City
InDriver 
Indriver became very popular among taxi users in morocco recently, (especially this year  2023), it is available in most big cities (Marrakech, Casablanca, Rabat, Tangier, Fez, Agadir ). The app is very easy to use, you search for the closest driver and the app recommends a rate for the ride that you pay cash to your driver. This app is becoming more popular among locals as well, for now, it is used by independent drivers, car owners, still not by official taxis.
Roby 
A Moroccan taxi app operating in  Marrakech, Casablanca, Agadir, Rabat, and soon in Tanger and  Fes, Roby works exclusively with registered Moroccan taxis, and not private vehicles.
you can use their app and pay online for your ride you can order a taxi through the app, pay a flat fee of MAD 15 ($1.5). The ride is then charged at the normal taxi rate. Prices don't change depending on supply and demand, as is the case with Careem and Uber.
Roby says "No more price surges in periods of high demand. With Roby Taxi, no more price scaling, but rather a clear pricing grid in accordance with State rates,".
l tried it in Marrakech it was reliable and in time, I use it when I am somewhere where petit taxis are hard to find. 
heetch 
Heetch is another taxi ordering app operating in Casablanca, Rabat, and Marrakech
 Unlike Roby, Heetch charges taxi drivers a commission of MAD 5 per ride (0,5 $), this app is by far the most popular among locals in Casablanca and considered to be one of the cheapest options. The app is easy to use similar to uber and the other taxi apps. 
Careem 
Operating in Rabat, Casablanca, and Mohammmedia, In March 2019, Uber agreed to acquire the company for $3.1 billion. Careem is the biggest ride-hailing app in the Middle East, with one million drivers operating across 90 cities in 15 countries. Easy to use and soon to expand in other Moroccan cities, you can download their app on your phone and start. I found heetch to be less expansive than Careem, I tried both in Casablanca, they are safe and reliable.
Yassir
Algerian based ride-hailing app Yassir has expanded in Morocco in 2019, The company says that it has future plans to expand its operations to other Moroccan cities and to offer more services which may include food delivery to Moroccans. It works for taxi reservations at night you can order a taxi in the same way as a ridesharing service Uber.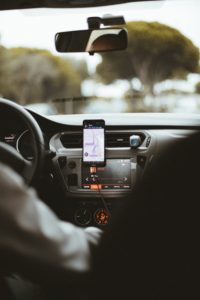 Insider Tip: Please keep in mind that All these taxi  apps, (except for Roby) have problems with the  petit taxis, as they are still considered somehow working in an illegal way in Morocco 
Petit Taxi  
Local taxis You can flag them down from the street or find them near bus or train stations. they have a uniform color for each city, in Marrakech yellow, Casablanca Red and blue in Rabat. they are allowed to take a maximum of 3 passengers. minimum to pay during the day is 7 DH and 10 DH at night, be careful of taxi scams ask them the price before you get in the taxi. From 8pm there is a 50% surcharge. 
Multiple hire is common the price will be the same if you are the only one in the taxi or he picks up someone else on the route.
Renting a bike 
Motorbike and pedal bike rentals can be fun to try inside cities there are many options to rent per day or per hour, prices vary depending on your location and for how long you want to rent it. Of course, cycling in Morocco is very different from Europe and the US. Use this option only if you are a good driver.  
Hiring a private driver  
this is the most expensive choice to get around inside the city but it is efficient in case you have a small amount of time and want o visit many places, also if you are a group of 4 and up it is wiser decision to hire a private a driver and split the cost and save time.
Renting a car 
 renting a car can be a useful option if you are an experienced driver because driving in Morocco is challenging and crazy the road are full of scooters and clapped out motorcycles winding between the traffic, young and old women carrying back-breaking loads, you do not need an international driver's license to drive in Morocco or rent a car there. Just bring your passport, credit card, and your driver's license from your home country.most car rental companies enforce their own age limit of 21 years old to rent a car.
traffic drives on the right in Morocco, the speed limit is 40-60 KM/H in cities and up to 80KM/H on the road rising to 120 KM/H on the highway.
Getting around in Morocco between cities 
Train 
 The state-run (ONCF) is safe and comfortable, the train has two main routes run between Marrakech and Tangier, passing through Casablanca and Rabat, and from the nation's capital of Rabat to the easterly city of Oujda, via Fez. but not in the south as Marrakech is the last station south.  Tickets can be reserved online on their website or directly in the train station.
A high-speed (TGV) line to link Tangier, Rabat and Casablanca opened in 2018, reducing the travel time between Tangier and Casablanca from five hours to just over two hours, with trains travelling at 320km/h. 
Bus 
CTM and Supratours are the most reliable, they are comfortable and safe with air conditioning you can book your tickets on their websites and check the time schedule for each, some lux and premium ones have Wifi and more space inside. It operates in all major cities in Morocco.
They are also regular busses used by many locals in the local station, they have the cheapest fares and don't have a regular timetable they just wait until it's full and leave the station, Less comfortable and not very clean, usually no air conditioning.
These local busses are never accurate because they stop many times on the road to pick up other passengers, by far CTM and Supratours are faster.
Grand Taxis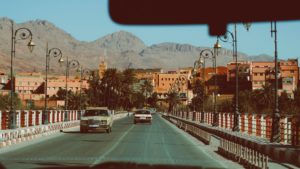 Grands taxis link towns to their neighbours, the classic option to travel from city town or village also between cities. Grands taxis take six passengers, they can be found near the local stations most popular colors are yellow, green and blue with a round stamp written "Grand Taxi". The price depends on how many KM it starts from 5 DH if you are traveling from the city to nearby village price range is 20 to 30 DH and at night is double the normal price. if you are traveling between cities it can cost 70 DH for a 3 hours ride. 
Is There Uber In Morocco 2023 ?
Before we used to have a Mercedes car as grand taxi like the one on the picture that normally can be only for four passengers so for 6 people two in front and 4 behind is not that comfortable especially for long-distance, but recently most of the taxi drivers changed to Dacia lodgy and similar, this one guarantee 6  separate seats for each passenger and you don't have to squeeze with others anymore. 
Hiring an entire taxi is sometimes a good option if you are traveling in a small group, negotiate the price for the taxi upfront (the fair price should be 6 times of one person price) and in this case, the taxi won't stop on the roads making it a faster journey for you.
Women Best Travel is a female-owned company that specializes in Morocco travel, we Arrange for you to Discover "exclusive and personal" experiences. You'll see what the regular bus Group tours don't show and what the tour agents may not know about, taking you beyond the standard tours. we combine Culture, History, Berber Culture, architecture, history, and storytelling in one powerful experience of Morocco that no other tour company can match. 
Our Tours
We aim to help travelers to experience all that this country has to offer in a meaningful, enriching and exciting way. As a leading travel service provider based in Morocco, holiday trips with us give you a rich cultural experience.
Our Reliable Tour Guides Meet you at any airport: Casablanca, Marrakech, Fes, Tangier, Essaouira…
We offer you customized Tours according to your exact interests and expectations.
We arrange accommodations at the best intimate boutique hotels and Riads.
Provide you with Private transportation in luxury Cars.
Trustworthy knowledgeable Licensed Tour Guides.
Arrange for you to Discover Morocco "exclusive and personal". You'll see what the regular Tourist bus Group tours don't show and what the touristy tour agents may not know about, taking you beyond the standard tours to Discover and Learn.
Is there uber In Morocco