Can Non-Muslims Enter the Koutoubia mosque?
Can Non-Muslims Enter the Koutoubia mosque?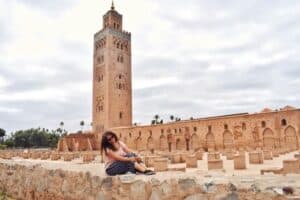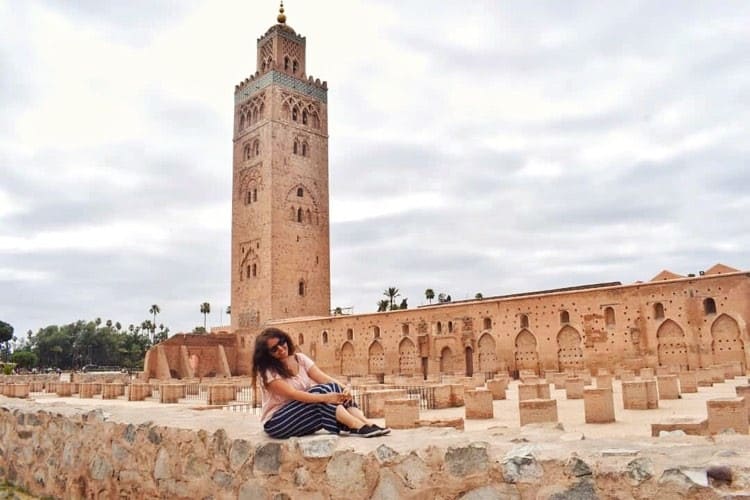 Non-Muslim visitors are not allowed to enter inside the mosque, this rule was set by French colonial rulers in the 20th century. but still, you can admire the majestic of the Koutoubia from the outside, at night or during the day, take pretty pictures and wander in the gardens, a perfect spot for strolling, relaxing on park benches and generally taking a quiet break, and it has great views of the Koutoubia minaret. 
The Koutoubia mosque is the largest mosque in Marrakech and the city's most famous landmark with its central and magical location in the medina less than 200 meters from the famous Jeema el Fna Square, with its 77 meters high minaret (at the highest point of the spire) you can't miss the mosque during any walk in the medina or the new town as it is visible from the main boulevards of Marrakech, it is also the sight of the tourists from the terraces of the Riads, hotels, and restaurants rooftops of the Medina. 
History of the Koutoubia Mosque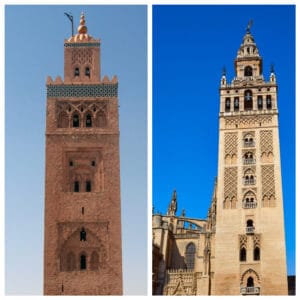 The name Koutoubia originates from the Arabic word for booksellers "Koutoubyyin" in Arabic; back in the day up to 100 booksellers would trade at the entrance to the mosque and in the surrounding gardens. The mosque was completed during the Almohad dynasty, (1184-1199) and was used as a model for the Giralda of Seville then for the Hassan Tower of Rabat. The mosque was first built by the Almoravid dynasty and destroyed later by Almohad  the  CaliphYaqub al-Mansur. the mihrab (prayer niche) was off center and not oriented towards Mecca resulted in a second mosque being built to correct this error, the remains of the former alignment strike are still visible next to the current mosque.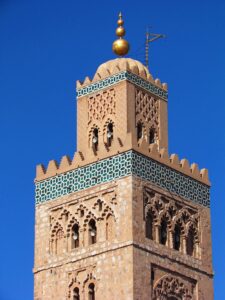 The tower of Koutoubia is decorated with four gold globes, the legend says it was originally built with tree gold globes, the fourth one was donated by The Wife of sultan Yacoub el-Mansour because she eat 3 grapes during one of Ramdan days (the fasting month) and melted all her golden jewelry into one sphere that was donated to the mosque. 
During the reign of Yacoub El Mansour – and at the same time as the finalization of the Koutoubia – two other famous mosques in Marrakech were built: the mosque with the golden apples in the Kasbah district near Bad Agnaou and the mosque of El Mouassine in the Mouassine district.
The interior of the tower is made up of six rooms that are located one above the other 
The call to prayer rises five times a day by al muezzin (the person who sing azan to call for prayer), The mosque has sixteen parallel, identical naves, and a larger central nave. There are one-hundred twelve columns covering a floor area of 58,000 sq. ft