SAHARA DESERT TOUR Itinerary : MY EXPERIENCE (3 DAYS)
Day 1  we started sahara desert tour  driving across Atlas Mountains via the Tizi n'Tichka (2260m), the highest road mountain in Morocco,  where we stopped to take pictures and enjoy the fascinating views.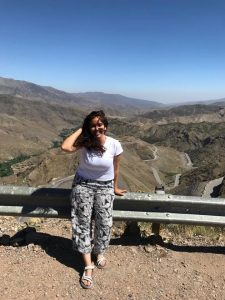 Next stop will be was  the magical kasbah of ait benhaddou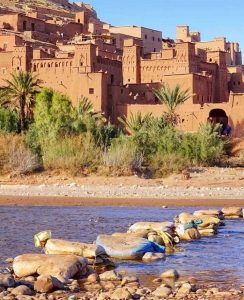 Aït Benhaddou Kasbah has been a UNESCO World Heritage Site since 1987,this Unesco-protected red mudbrick ksar (fortified vilage) built in the 11th centuryand used to be  a strategic stop for caravans of camels, , often numbering hundreds, on the trans-Saharan trade route from the Sudan to Marrakech carrying gold, silver and slaves and returning with salt.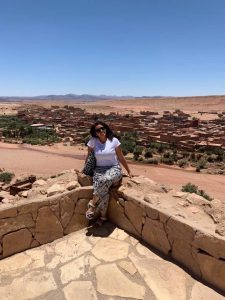 We had Lunch in the Kasbah and continue  towards Ouarzazate. In Ouarzazate, we visited  the Kasbah of Taourirt home to a 19th-century palace. Ouarzazate is hollywood of Africa as many international film companies came to  shoot their movies in its studios and landscapes like: Lawrence of Arabia (1962), The Living Daylights (1987), The Last Temptation of Christ (1988), The Mummy (1999), Gladiator (2000), Kingdom of Heaven (2005), Martin .Scorsese's Kundun (1997) and Babel (2005), "Game of Thrones"(2012)
We continue driving to  the Dades valley where we could  Enjoy the splendid landscapes of the valley of the Roses and Kalaa M'gouna. We arrived to the hotel and went for a walking tour  where we attended the sunset in the magical  dades valley.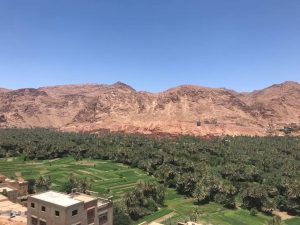 Day 2
we start our second day  with a drive along the road of 1001 Kasbahs to the oasis of Tinghir, a charming town known for its magnificent palm groves and famous todgha caves,where we stop for a walk in the oasis under the shade of palm trees and continue to Todgha Gorges.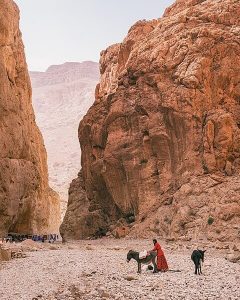 todgha gorge was a sublime experience to be stuck between a rock and a hard place, where a 300 m deep fault splits the orange limestone into a deep ravine at some points.
After lunch in the todgha gorges and visiting berber villages we finally arrive to the sahara desert in merzouga where ride a camel to  erg chebbi, at that moment i realized that sahara desert is more magical than what i expect. watching the sunset over the desert dunes and the colors of sky changing was fascinating.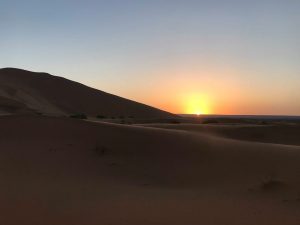 After we jumped of our camels  to the desert camp we were in the desert camp There, we had  great time enjoying desert dance with  drum music and a tasty moroccan tajines.
Day 3 
We woke up early in the morning to watch the sunrise on the dunes, then we rode the camels back to Merzouga, after breakfast and having a shower in the Hotel, we  started our journey to Marrakech trough different areas and different Berber villages (Alnif, Tazarine, N'kob) arrive by evening.