Can I Use Euros In Marrakech
Can I Use Euros In Marrakech?
Before visiting Morocco you think about the currency and money exchange, Yes you can use Euros in Marrakech in big hotels, restaurants, and shops, although it is a good idea to carry Moroccan money cash for day to day transactions and away from big cities and touristic areas. Insider tip: Any payments made in Euros would be at a rate that is disadvantageous to you. You need to have an idea for the exchange rate, and it is not always close to what you see online, have a look in the banks and exchange offices.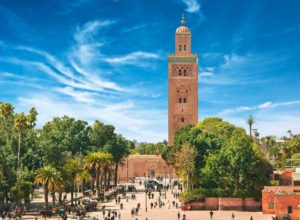 Cards are increasingly used in touristic and wealthier areas. All supermarkets take them, even chains of mini superettes such as BIM. Most mid to upmarket restaurants take cards as do most international chains. Larger shops will take them. But 
Can I pay in US Dollars 
Beside euros  U.S. dollars and British sterling are widely accepted,   Australian or New Zealand Dollars are not accepted 
denominations of the local currency MAD
the local currency is the  Moroccan Dirham (MAD)
Coins are issued in denominations of  ½, 1, 2, 5, and 10 dirhams.
Banknotes are issued in denominations of 20, 50, 100, and 200 banknotes.
The Dirham is officially is a closed currency meaning it can only be traded within Morocco , however, Dirhams are being sold and bought in travel agencies and at major airports in several countries. The import and export of the currency are tolerated up to a limit of 1000DH.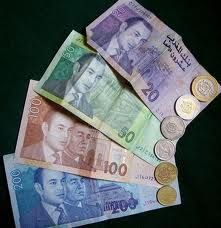 Where to exchange money in morocco
you Can exchange money at the airport once you arrive generally the exchange rate is poor so it is better to change just a small amount, it is possible to change it also in hotels and they have also low exchange rates. The best place to change money is office change (Bureau De Change) they offer the best rates and you can easily find them everywhere.
In Marrakech, there are two exchange offices where I recommend you to go if you are in the old medina look for the Hotel Ali exchange office in the square Jemaa el Fna, if you are in Newtown there is hotel Farouk office exchange not far from the plaza center.
If you're exchanging your cash, make sure to bring along undamaged banknotes that are common
if you're bringing cash to exchange upon arrival, make sure that you have clean, crisp, common notes. Don't take regional banknotes from the UK, for example, as Scottish or Northern Irish notes won't be recognized. Similarly, if your bills are in anything less than perfect condition, then the exchange service may be reluctant to take them.
Exchange Rates 
| | | |
| --- | --- | --- |
| Europe | 1 € | 10,5  MAD |
| USA | 1 $ | 9,3    MAD |
| UK | 1 £ | 12,4  MAD |
| Canada | 1 C$ | 7,3   MAD |
| Australia  | 1 A$ | 6,4   MAD |
| Japan | 1¥ | 0,08  MAD |
| New Zealand | 1 NZ$ | 6,1 MAD |
For current exchange rates, check Here 
Credit Cards and debit card 
Morocco is still a cash-based economy don't expect to use your credit card everywhere, in big cities like Marrakech you can use it in big malls and shops however some restaurants even if they accept payment by card they require a minimum bill so you can use it your bill must be more than 100 MAD (10 Euros).
You can use your credit cards in ATMs as I mentioned before, just keep in mind to inform your bank that you are traveling because when you use it abroad and they see unusual activity, the will probably block it until they contact you.
 Cards are a convenient way of paying for goods and services while you're traveling where you can use them You will get a much better deal if you pay in the local currency. watch out for offers to be charged in your home currency as they use  Dynamic Currency Conversion (DCC), which is a common – but hidden – pitfall, the exchange rate that you would get for using your home currency would be rounded up and would cost you more money in the end. It's usually best practice to select "local currency" when given the option.
ATMs 
are the easiest way to get the cash, they are available everywhere in big cities while in small villages and towns they are hard to find, but keep in mind that in busy times especially in weekends cash machines may be out of service until they are restocked again.
BMCE (Banque Marocaine du Commerce Extérieur)
Banque Populaire
BMCI (Banque Marocaine pour le Commerce et l'Industrie)
 Société Générale 
Attijariwafa Bank
all reliable service and you can find them everywhere in the big cities. sometimes in busy places like the big square and the Newtown ATMs are empty by the end of the day especially at weekends so don't wait until you don't have anything to go withdraw more cash. 
Tipping & Common Costs
During your trip to Morocco Guides, drivers, as well as hiking and trekking guides are typically tipped between 100dh and 200dh per day. At larger restaurants, check the bill to see if a service charge has been added. If not, 10% of the bill is a nice tip to reward good service.
A pot of  mint tea
5-20dh | £0.4-1.6 | $0.5-1.9 | €0.47-1.87
A visit to Morocco is not complete without drinking the famous mint tea,In most of the riads, They will offer you tea upon arrival each day for free, a pot can cost anywhere from 5 to 20dh. 
One liter bottle of water 
5-10dh | £0.4-0.8 | $0.5-1 | €0.5-1
 in Morocco it isn't recommended to drink the tap water at all, most of the traveler who drinks it they have stomach problems
Cup of coffee
7-20dh | £0.6-1.2 | $0.7-1.5 | €0.65-1.4
Always a good idea to have a cup of coffee on a terrasse to watch the sunset or enjoy the sun during the day watching the daily life of Morocco.
Can of coke
3-7dh | £0.25-0.55 | $0.3-0.7 | €0.3-0.6
Standard.
A glass of freshly squeezed orange juice 
5-20dh | £0.4-1.6 | $0.5-2 | €0.47-1.9
the ubiquity of freshly squeezed orange juice from colorful carts or stands and the big square of Jemaa el Fna, Delicious and refreshing, you'll also find that the price fluctuates quite a lot.
Pack of local cigarettes  
20dh to 35dh | £1.6 | $2 | €1.87
BEER
11-40dh | £0.9-3.2 | $1.1-4 | €1-3.75
Although alcohol is available in the country, you can find beer in Newtown easily comparing to the old town.
Read more in this article Can you drink alcohol in Morocco?
Local snacks 
1-5dh | £0.1-0.4 | $0.1-0.5 | €0.1-0.5
From little carts you'll find a lovely array of fresh sticky pastries and cakes, whilst small shops sell local crisps and sweets pretty cheaply. For imported goods, always expect to pay considerably more. 
Can I Use Euros In Marrakech