Erg Chigaga Desert 
Spending a night in the Sahara Desert is a one-lifetime experience, a lifelong dream for anyone traveling to Morocco,  Any forum will tell you that there are two places in Morocco where you can actually spend a night in the desert: the dunes of Erg Chebbi and the dunes of Erg Chigaga desert, both of them require between 8-10-hour drive in the car. The simple answer for this question is it depends on what you like and your travel style.
Erg Chigaga is less visited than Erg Chebbi, as it is not easy to access After arriving to the gateway town of M'hamid. the 60 km drive taking to chigaga dunes have to be by 4X4 and a skilled knowledgeable driver as the road is not sealed and less explored what makes it wilder.Chigaga dunes are for travelers looking for an isolated, savage, private and unique experience, It has a wild landscape driving from mhamid you will pass by  the vast dried-up Lake Iriki in the Iriki National Park giving a great view and landscape.
Things to do in Erg Chigaga desert 
The rich landscape and cultural heritage of the region gives the park an important ecotourism potential that will be a lever for local economic development.
4×4 track to the biggest sand dunes of Erg Chegaga 3bid lya, and visiting the sacred oasis foum laaleg with changing sceneray and landscape. Visiting a Nomad family and discovering their lifestyle, taste their  sand  bread that this region is famous for, after that continue the drive to the center of lake iriki, perfect for offroad driving and is the route for many ralleys.
Camping in the desert is a wholly unique experience for outdoor adventurers – the other-worldly landscapes, the wildlife, the stars (the stars are mind-boggling on a clear night!).  in lake iriki national park there many ergs (erg lmhazil, erg lghoul, 3bid lya ….) where you find diffrent ranges of desert camps from standard to luxury camps.
trekking across the Lake Iriki National Park
Every traveler  visiting Morocco simply has to visit and experience the Sahara desert and this can be done in many ways, trekking in the Sahara is going off the beaten path, further than any tour bus can reach and experience the real and authentic Sahara desert. you can book desert trekking tours with local experts.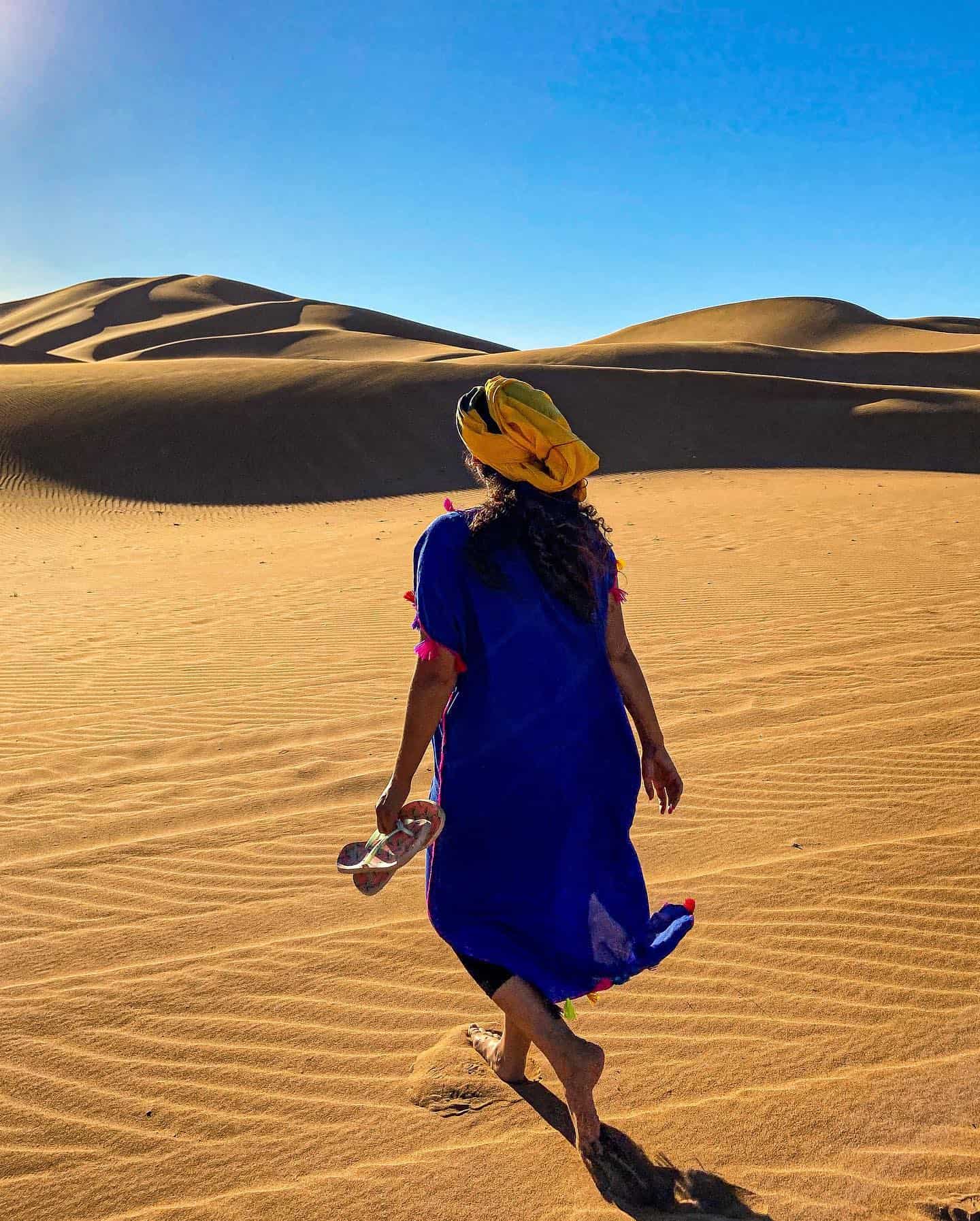 Enjoy the tranquility of the sahara desert and walk among the sand dunes, wake up early to witness the sunrise, and don't miss the sunset.
Tours to Erg Chigaga desert
MARRAKECH TO ERG CHEGAGA DUNES 4 DAYS TOURS