SHERises: Empowering Women in Morocco: Fatema Mellal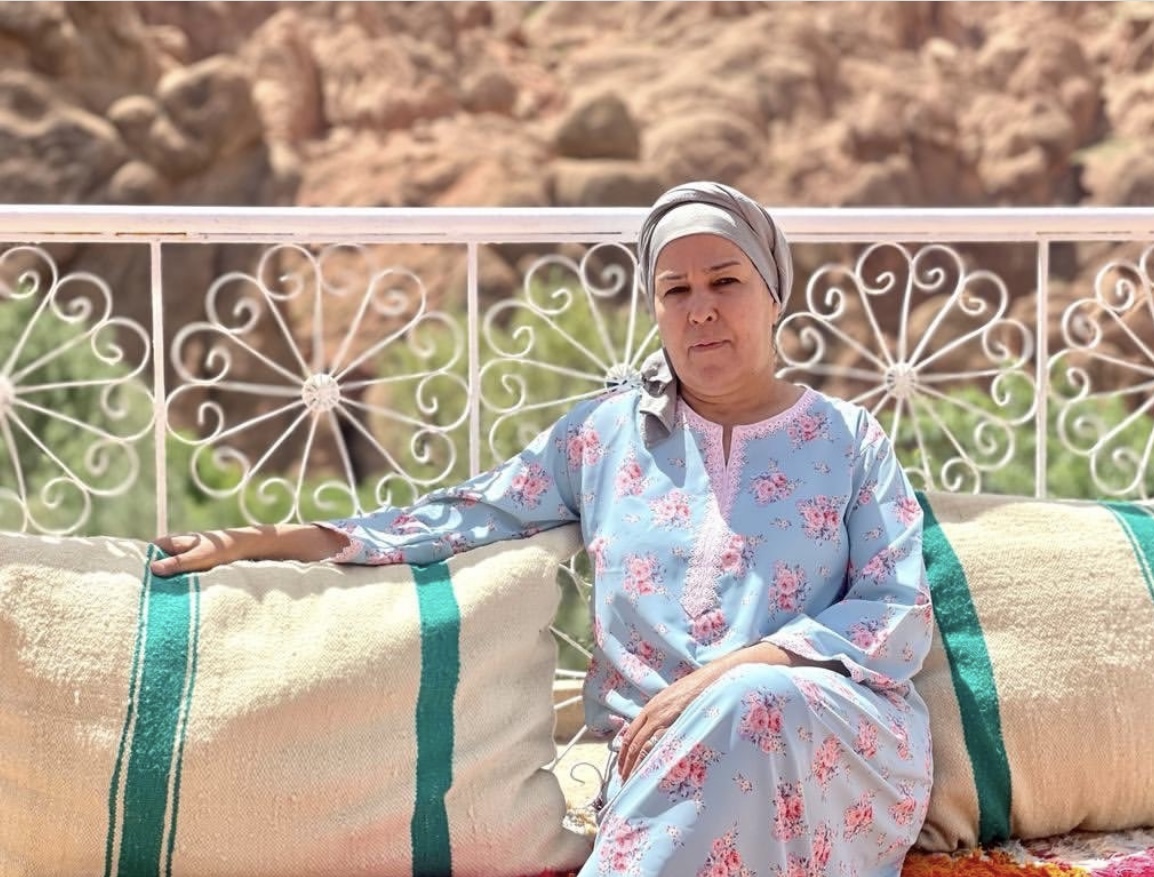 Fatima Malal, a self-taught artist, transcended the confines of her small village nestled in the Atlas Mountains of Morocco through her substantial body of work. Her art seamlessly blends simple yet captivating content with a vibrant palette. Creatively navigating the realms of carpet weaving, she transforms plastic into ordered masterpieces.
Born in 1968 in a remote village in the Straits of Dades Valley, southeast Morocco, Fatima hails from the Ashqh family, known for its artistic and musical background. Similar to many women of her generation, Fatima was deprived of formal education, a privilege traditionally reserved for males. Instead, she, like other girls, was assigned household chores, fieldwork, collecting firewood in the rugged mountains, tending to livestock, and anticipating marriage, which would extend these responsibilities to her husband's household.
Fatima's artistic journey started with the traditional Amazigh carpet weaving. In an interview with Arab DW, she expressed, "When I have spare time at home, I dedicate it to carpet weaving—a demanding task that requires concentration, patience, and precision in selecting colors and patterns." Anyone visiting Fatima's home is greeted by intricately crafted carpets that resemble hand-painted canvases, capturing the essence of her skilled hands.
Growing up, Fatima's affinity for artistic expression flourished, with her using the carpet as a canvas for her love of art and storytelling through colors and beauty. Unyielding in her pursuit, she refused to succumb to societal expectations that confined women to mundane tasks like collecting firewood.
Fatima's breakthrough came when a Swiss woman, during her village visit, admired the exquisite handwoven carpets. This encounter led to a transformative suggestion: to translate Fatima's expertise into the realm of canvas and color dyeing. The artist reflects, "I met a Swiss lady during her visit to our village, and when she saw the carpets I created, she was struck by admiration for my work. She proposed translating that experience into dyeing colors on canvas."
Talking about Fatima Mellal's artistic experience is an attempt to analyze the background and the social, cultural, and natural environment in which she was born and brought up. As it is mentioned above, the natural views that Fatima had seen around since her early childhood were but small houses on mountains and a river passing by crossing small green fields. In front of her home balcony and windows, stood huge red strange rocks known there (in her village) as "monkey's paths" since they showed exactly the same as the latter.
In 2000, Fatima Mellal's artistic journey took a significant turn when her friend Margaret Haslan from Switzerland assisted her in organizing her first gallery in Europe. This marked a pivotal moment for Fatima as it provided her with the opportunity to connect with international schools of painting from around the world. The experience opened doors for her to showcase her unique works on an international stage, setting the stage for ambitious plans in her artistic career.
Following this breakthrough, invitations to exhibit her distinctive pieces poured in from various countries, including the Netherlands, Spain, Bahrain, and different cities in Morocco such as Ouarzazat, Zagora, Casablanca, and Rabat. These exhibitions took place during cultural events, association activities, and encounters, solidifying Fatima's presence in the global art scene.
Balancing her domestic responsibilities with her artistic pursuits, Fatima Mellal went beyond her personal artistic endeavors. She extended invitations to children and young individuals to her workshop, providing them with an introduction to art and inspiring them to translate their ideas and imaginations onto various canvases.
Not confined to the realm of art, Fatima actively participated in social initiatives as a member of the Tamlalt Association of Development. Her involvement in these actions aimed at supporting underprivileged children by providing them with essential school materials and clothing, reflects her commitment to making a positive impact beyond the canvas.
Fatima Mellal's Guesthouse in Dades Valley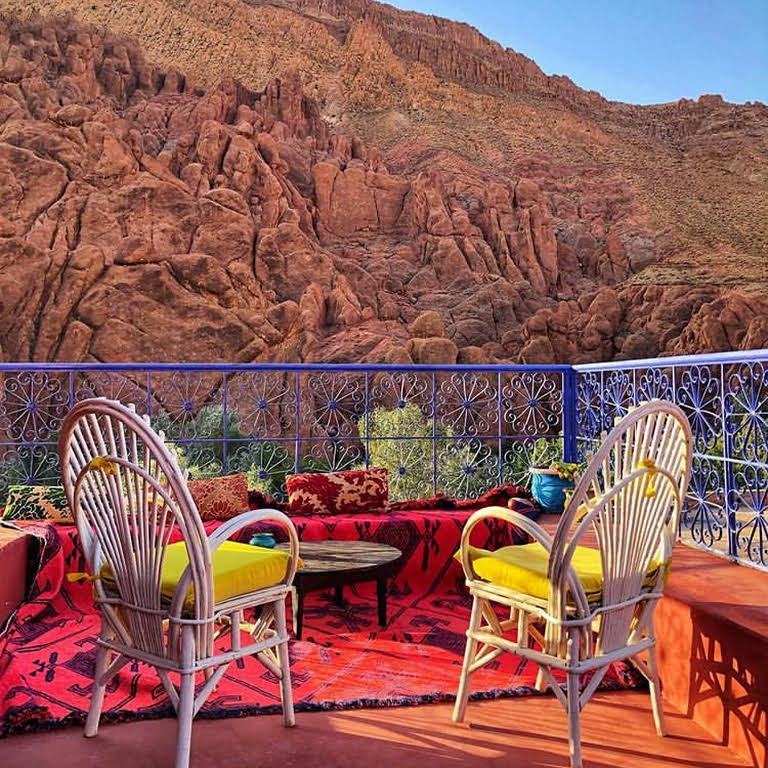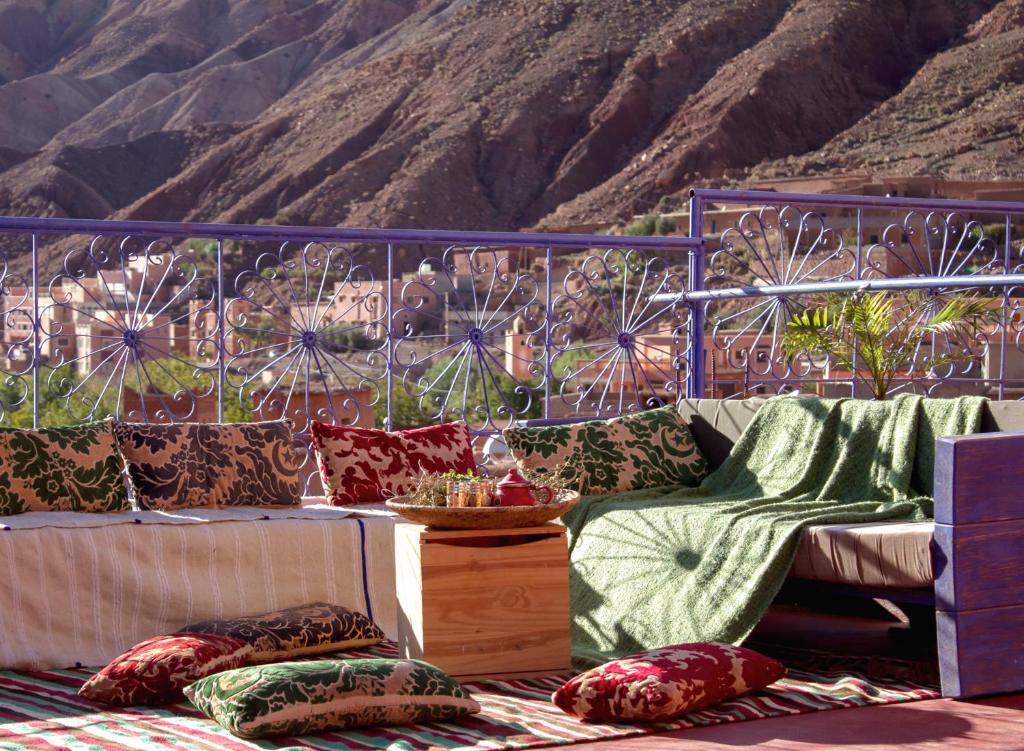 a small guest house located in Dades Valley Morocco. Managed by two sisters and local artists Fatima and Saida Mellal, their place is the spot for nature lovers and for those who love hiking and mountain ballads, doing spiritual retreats and yoga, painting, and writing.
SHERises: Empowering Women in Morocco : Fatema Mellal