Best Street Food In Istanbul
Best Street Food In Istanbul
Istanbul is a foodie's paradise, I spent one month in this fascinating city that combines two continents and I couldn't get enough from the tasty food. The city is full of vendors selling all kinds of food I was lucky to have plenty of time to try a lot of delicious street food with Turkish friends. Here is a list of Street Food to try when you are visiting the city.
Simit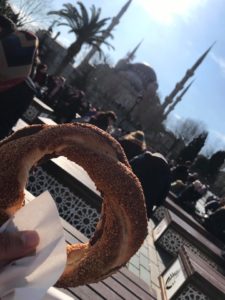 the most popular one that you can find everywhere at any time, it serves as a quick breakfast on the go or with a cup of tea, it is a Turkish bread baked in the shape of a circle covered in sesame seeds. You can find it in the red carts like the one in the picture that I found in front of the blue mosque or at the bakeries.
You can also have it with cheese on or Nutella, you can buy it for 2 TL, the one with Nutella and cheese is 4 TL.
Balık-Ekmek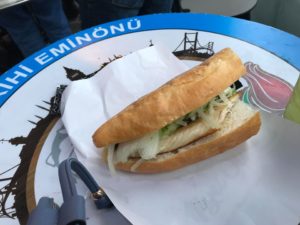 Balık-Ekmek or fish sandwich that is by the Bosphorus at Eminönü as well as Karaköy, it is a white bread piece filled with a fried fish filet, lettuce and raw onion, I advise you to skip the onion because of the smell. I paid 15 TL for this delicious sandwich you may find it for 12 TL in other places.
Islak burger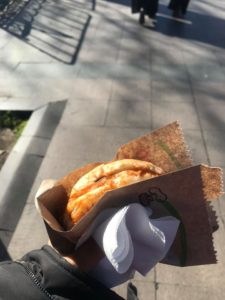 Islak hamburger is known also for the wet burger composed of a meat patty (usually beef) on a soft white bun that's doused with a garlicky, vaguely Italian tomato-based sauce…. I tried it in the Sultanahmet area near the blue mosque and in Kadikoy on the Asian side, you can find it also in Taksim open 24 hours/ 7 days a week. the price as shown in the picture is 6 TL.
Midyear dolma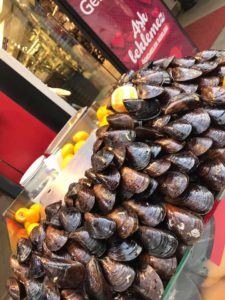 Midyear dolma is mussels stuffed with herbed rice, currants, and pine nuts and it's one of the most popular street food in Istanbul. squeeze some lemon on it before you eat, it a good snack I used to eat especially in the evening. It is available everywhere I take most of the time on the Asian side in Kadikoy.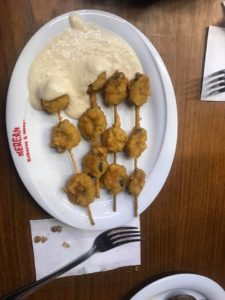 The ones in the second picture are the fried battered mussels, threaded onto wooden skewers and served with a squeeze of lemon and some tarator dipping sauce, same but prepared differently I like the fried one more also in Kadikoy where there is a street of 3 to 4 restaurants serving the mussels and  Kokorec (Lamb Intestines) all night.
Kestane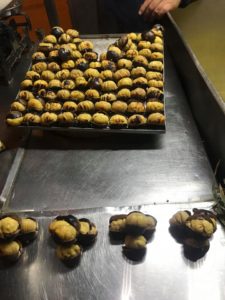 Roasted chestnuts that you can find in Istanbul streets, what I like the most about kestane is its delicious smell on the streets especially in the evenings you will see locals having kestane I visited Istanbul in February and kestane is more popular during wintertime, somehow I always associate the smell with Istanbul.
Mısır  Corn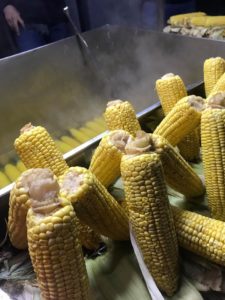 Most of the time sold in the same cart with kestane, I like to have misir while waiting for the tram or metro where you find vendors preparing it grilled or boiled, a delicious quick snack on the go.
gözleme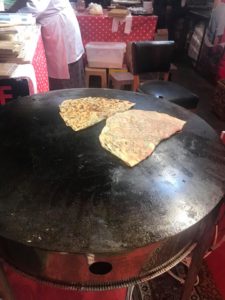 a delicious and quick snack Thin dough topped with ingredients including ground beef, spinach, cheese, potatoes, and parsley. The dough is then folded over and sealed. It is grilled on an open griddle and brushed with oil to make it crispy. the best one I tried was in Eminönü in front of the ferry station. 
Çiğ köfte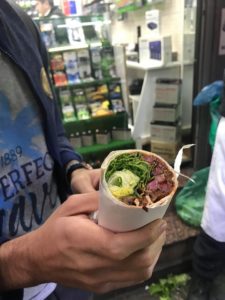 seasoned raw meatballs made from cracked wheat mixed with raw meat (sometimes) and tomato paste wıth lots of spices served with lettuce leaves and lemon juice, it is an old traditional Turkish dish based on finely ground bulgur (wheat) with tomato puree, onions, parsley, garlic, nuts, and mint leaves. The meat version of çiğ köfte has been banned from casual sale since 2009 for hygienic reasons, it is also available everywhere in street vendors carts.
Kokorec (Lamb Intestines)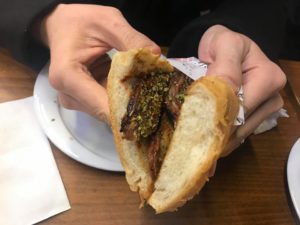 Hmm, this is interesting street food, most of the travelers are surprised when they hear it is a lamb intestine actually it is a traditional Turkish dish that's also popular in other countries, especially in Greece, the intestines are cleaned, then wrapped onto iron skewers to be grilled over charcoal.
Börek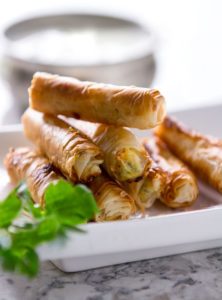 Borek is a family of baked stuffed pastries that has an old history dating back to a hundred years B.C., iT was popular throughout the reign of the Ottoman Empire, you can find it in special borek shops called borek all day or at any patisserie in the city. there are many types of burek in Istanbul Su Böreği,Kol Böreği ,Boşnak Böreği,Gül Böreği,Kalem Böreği, Paçanga Böreği and Avcılar Böreği.
Orange/Pomegranate Juice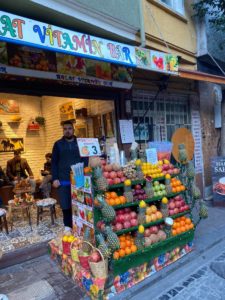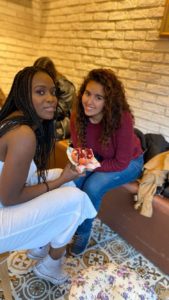 Freshly squeezed juice to order, the best is the pomegranate juice with orange, very popular you found it everywhere. All kinds of fresh fruits for you to try, this one in the picture in BALAT where you can also order fresh fruit, tea and coffee.
Pide: Turkish Pizza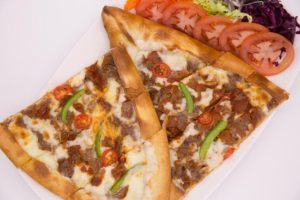 A  filling of lamb, onion and black pepper is enclosed in the dough to make a long, French-stick shape. the edges of the dough are folded in to make a boat-shaped tart. Toppings can include cheese and vegetables, Often an egg is broken on top for the last few minutes of baking.
Poğaça / Açma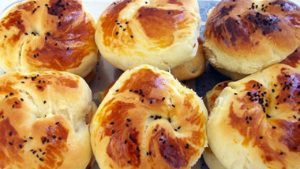 Poğaça is small, savory pastries, flavored with cheese and herbs they can be found in street vendors, bakeries and in some restaurants. their price range from 1 to 3 TL depending on where you buy them and what they have inside from cheese filling to mashed potatoes, to minced meat to dill.
Açma or Turkish bagel is a buttered dough pastry, is a pillowy snack slightly on the sweeter side, with caraway seeds on top. Besides street breakfast sellers you can buy Açma in all the bakeries and patisseries. This one is popular as a breakfast takeout for most workers in Istanbul.
Lokma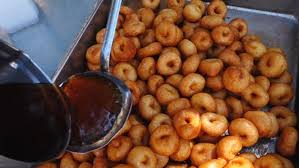 The Turkish word lokma means 'mouthful' or 'morsel'.A popular Turkish dessert made from deep-fried dough soaked in sugar syrup or honey. It is served steaming hot, it carries a ceremonial meaning in Turkey. Traditionally 40 days after someone passes away, family members cook lokma and serve it to their neighbors. 
Is it safe to eat street food in Istanbul?
Personally I found Istanbul to be very clean especially in places of tourists, I tried all kinds of food during my month stay and never had a problem. Eating in the streets is a part of the local life, wherever you walk near monuments, near to parks and in every corner, you find street vendors. I would recommend you to try it you will enjoy the experience. 
Best Street Food In Istanbul