Is Marrakech safe at night?
Is Marrakech safe at night ?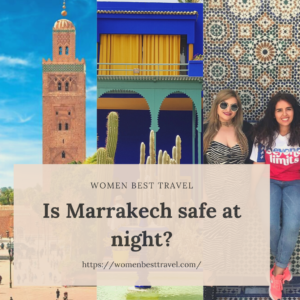 Many travelers ask this questions especially females and first time visitors of the red city, Marrakech is one of the biggest cities and most visited one in Morocco thanks to its perfect combination of old  medina, souks, historic monuments and its new city with modern restaurants, night clubs and shopping malls. From my personal experience living in the city for 9 years Marrakech is safe at night.
How to stay safe in Marrakech
Marrakech is perfectly safe if you know what you are doing, the city is great to explore and it becomes more alive at night, visiting the jemaa el fna square at night is an experience that you don't want to miss. All the music, dancing, food markets that starts after nightfall. 
As a local tour guide and trip planner i worked with many travelers and experienced their doubts and questions for safety what made me want to right this post  giving some useful tips and informations to help you have a great and safe experience traveling to Morocco.
Say no to tour guides (hire only trusted guides)
while walking in the medina (old city) you will be approached by some guys pretending they are tour guide offering you to show you around, just say no thank you. Official, certified tour guides work with tour agencies and have specific schedules  and you need to book them in advance, they are competent and don't have time to offer their services in the streets to random tourists. Those on the streets are not oficial guides,they will take you to a shop and try to sell you something. unfortunately it will be a devastating experience for you so it is okay to say NO.
Always have your   general direction in mind 
have the direction where you are heading in mind, i always recommend paper maps even now everyone has all kind of phones and advanced technology map but i map on paper will give you the general idea of your direction, sometimes you will see shortcuts on phone but they might be closed alleys so try to stick to the main streets to get to the places you want.
Don't walk alone at night in  empty alleys
In the main and busy areas walking at night  is fine, but it is better to avoid empty alleys and instead explore them in a day time it is easier and more comfortable. The medina is challenging to navigate if it is your first time and you don't have a lot of time it is better to hire a guide to show you all the hidden gems.
Keep an eye on your belongings 
Pay attention Especially in crowded places like  the square jemaa el fna, if you have a professional camera always make sure your holding it in front of you, don't put your phone or wallet in your pockets. You can  use a small PacSafe purse when exploring the  city. where you can carry your wallet, passport, phone, and a few other items
Follow common sense
listen to your gut: This is not only in Marrakech but also anywhere else you go. If something seems dangerous to you, if it doesn't feel right, don't do it. Marrakech is a beautiful city to explore letting your fear and anxiety ruin the experience will be a real shame.
General informations and numbers comparaison 
The murder rate in Morocco is 0.4 as opposed to a staggering 5 in the USA
Rape rate is at 4.8 – 6 times lower than in the USA (27.3 per 100,000 citizens)
Total crimes per 1000 are 9.68 – 4 times less than in the USA (41.29)
Robberies are around 83.4 or 76% less than in the USA (146)
Drug use in Morocco is three times lower than in the USA
though Morocco is a big hashish producer & there are loads of cannabis consumers (despite the severe punishments)
Many women have asked me if they can visit Marrakech alone
my honest answer is if you are a beginner traveler yes it can be hard, with all the hustling and people approaching you as it is different and you never experienced it before , my advice for all women visiting is to politely ignore all men approaching you in the streets. 
Safe Marrakech areas to stay in for female travelers 
One of the safest areas in the medina and quite close to the Jma el Fna square. there are lot of riads and guest houses if you are looking for an authentic riad  experience it is a perfect option for you . There also many good hotels in Gueliz and hivernage area in the new town you can walk safely at night it is 20 minutes to jamaa el fna square, 5 minutes by taxi. For those who prefer resorts and all inclusive clubs the palm groves is your best option a bit far from the city center you can use daily shuttle buses or taxis to get to the center.