Tips for Women Visiting Morocco
Tips for Women Visiting Morocco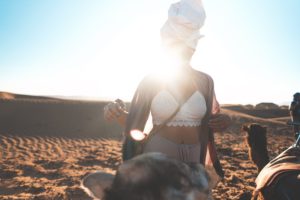 dress appropriately 
 one of the first Tips for Women Visiting Morocco on how to dress, You can wear  whatever you want in Morocco, there's no "Morocco dress code" – but that doesn't mean you should. You don't  need to dress like locals,, but be mindful of local norms. Women – booty shorts, cleavage bearing or crop tops and see through items are not a great idea. As a women tourist in Morocco,  you want to avoid unwanted attention as much as you can . here is a complete guide to what to wear when traveling to Morocco.
Don't be  Overly Paranoid
You hear the stories of pickpockets in Jamaa el fna square in Marrakech, of catcalling  in the streets, of taxi scams , and you start to worry. I've heard female travellers say they won't even visit Morocco, because of all these stories all over the internet.But women  visit Morocco all of the time, and very few of them ever experience any problems. I am not saying that bad things don't happen to travellers. But it's not worth obsessing over. I would say you can take some  precautions and be aware, but don't expend all your energy on worrying about the worst than it's really worth.
Don't smile a lot 
From my personal experience as a local  tour leader all the female travellers smile a lot which is a normal thing, but a smile may means more here, a  smile at men is considered flirtatious. i would say try to keep your smile to a minimum and avoid eye contact with men.
Spend a little more money / avoid cheap Inferior Guides
The most important factor in the safety and success of a Moroccan Experience  is the knowledge and skill of your guide. However, low budget operators often hire freelance guides with little experience, poor English language ability, and no medical training. The competence of a guide is not always obvious until a crisis emerges, but by then it is too late. Quality guides do not work for the low budget operators. Quality guides do not wait around for clients to walk in, hoping for some work. Quality guides are hired full time by the top operators and are busy leading groups on scheduled tours, week after week.
Ask permission before Taking Pictures of People
Morocco is a gateway to Africa and a middle eastern culture, a big diversity from epic mountain ranges, ancient cities and kasbahs and fascinating  deserts. No wander every traveller want to capture magical pictures and moments in this magical country, but always ask permission before taking people pictures, we moroccan don't like to be photographed , people are known to   be sometimes aggressive, demanding money or demanding that you delete the photo you possibly took of them especially in big cities like Marrakech and Fes. Others are quieter, though will hide their faces. this is the case for women around the country, both in the big cities and in smaller towns and berber villages.It's also really important for you to know it is not acceptable to take pictures of police officers, military personnel as Morocco is  serious when it comes to national security. If a police officer sees you take a picture of him/her don't be surprised if they come to you and request you immediately to  delete the picture.
 Golden rule when you want to take pictures of people  ASK PERMISSION   before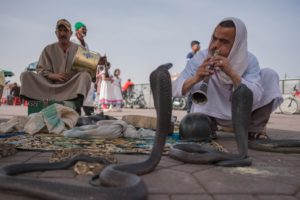 Not everyone speak English (Prepare your french)
We  speak a lot of languages. especially people working in the tourism field  They're very gifted when it comes to this but not everyone does speak English. Instead,  Arabic and French are spoken by almost everyone. Ask and if they speak English they'll switch for you,, most are much more comfortable in French, and nicer to you if you can speak it.
For those extra prepared travellers here is my guide of essential arabic(moroccan) and french to communicate in Morocco.