Is the Sahara desert in Morocco safe?
is the Sahara desert in Morocco safe?
the Sahara desert in Morocco is very safe for travelers, I personally have visited the desert as a female traveler with group tours and organized many tours and never had a safety issue. 
How far is the Sahara Desert from Marrakech? And from Fez?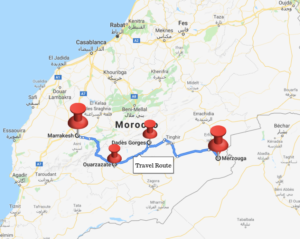 the Sahara The Zagora desert is about 6 hours away from Marrakech (360km ), as opposed to Merzouga, which is about 10 hours (600km).. Fez is located 470km (290 mi) from Merzouga and 670km (415 mi) from Zagora.
Merzouga desert, Zagora Desert and Agafay Desert, What is the diffrence 
You must be confused between all the names of  Morocco's desert  tours  you find on the internet, there are two main Sahara spots where you can see the big desert dunes Erg Chebbi in Merzouga  and Erg Chegaga in Zagora You can Read here more details about the two  Erg Chebbi Vs Erg Chegaga, the Agafay Desert is 45 Minutes driving From Marrakech and it is not a real desert with sand dunes, it is more of a rocky desert where you can enjoy some one-day trips and activities(Camel ride, Quad bike ……)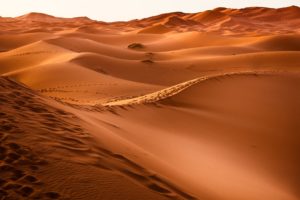 Real Desert Dunes In Erg Chebi in Merzouga  and Erg Chegaga in Zagora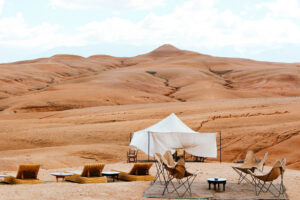 Agafay Rocky Desert Near Marrakech 
You cannot do a Real Sahara desert tour on a one day trip from Marrakech
 The ideal to really enjoy your Sahara desert trip is 2 nights minimum and 3 nights if you have more time, driving from Marrakech you will pass by the Atlas Mountains and the famous difficult Tichka road to arrive to Ouarzazate and kasbah ait Benhaddou, the first night you can spend it in a hotel in the Dades valley or rose valley. After more than four hours driving you will arrive at Merzouga or Zagora where you can experience sunset camel trek over the dunes to spend the night under the stars in the desert camp.
What is the best time to visit the Sahara Desert?
April, May, September, and October are great months for traveling to the desert, Definitely not a good idea to visit the desert during summer Many of the luxury camps close during July and August as the Weather is too hot, it gets to  50°C. During winter months daytime temperatures are comfortable, but nights can be cold (approximately 10°C). 
   what you need to know before visiting the Sahara desert In Morocco  
Packing list for a trip to the Sahara Desert 
What to pack for  the Sahara Desert 
A windbreaker or light jacket to survive the cooler nights;
Comfortable, wide  pants  adapted to  the camel's rough fur;
Appropriate closed sandals or sport  shoes ;
A headscarf or hat to block the sun and dust;
 Sunscreen to protect yourself from the sun;
A flashlight to use at night at the campsite;
An extra day or two of any medications you need. There are not too many pharmacies in the desert
Things To Do In The Sahara Desert 
Desert Camp Overnight, One of the most magical experiences is to sleep in the desert camp under the stars.
Camel Trekking in the desert dunes.
4X4 TOUR, For those who like adventure activities.
Meet Nomads Families, Learn more about their lifestyle
Hunt for fossils. This region is rich in fossils and there are several well-known areas to be sure to find a fossil to take home.
Listen to Gnawa Music, The desert is the real home of Gnawa Music.
what are the Sahara desert Morocco  Tours   I can book?
All of our tours and fully customizable and you can also contact us to create your very own private tour. If you have more questions about visiting the Sahara with Journey Beyond Travel send us an email  at  womenbesttravel@gmail.com or give us a call or WhatsApp 00212618640567 today.
2 Days Desert Tour From Marrakech to Zagora
4 Days Desert Tour From Marrakech To Fes
4 Days Desert Tour From Marrakech to Merzouga Camel Trek
4 days from Casablanca to Marrakech via Fes and Sahara desert
Desert Tours From Fez To Marrakech 4 Days
MARRAKECH TO ERG CHEGAGA DUNES TOUR