Marrakech Souks Guide, Prices, opening hours, and Shopping Tips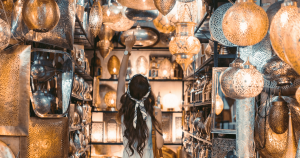 Marrakech Souks Guide, Prices, opening hours, and Shopping Tips
the term souks mean simply markets, and it is an unmissable attraction even if you're not into shopping, the souks are still a site that's well worth experiencing. the unique and chaotic atmosphere, the haggle, the smell of spices, the magic light lamps, traditional clothes, fabric, and street food. The souks add them to unique travel experiences in Morocco's red city.
The early history of souks in Marrakech
Historically souks in Morocco are organized on a weekly basis outside of the city, the merchants arrive on a caravan and stop to sell their goods,  In the smaller countryside villages and towns, the weekly market still exists until now,  Each village or town in a particular region takes turns as to which day of the week its souks and markets occur. For example in Ourika valley souk is every Monday, in the village of Asni, it is Saturday. For larger cities like Marrakech, Casablanca, Fes, Essaouira, and Tangier, souks are the markets district with an entire street block displayed on sections for Each different item available for sale on a daily basis. Marrakech souks are Sitting on important trading routes, people passed through here from the north, south, east and west thanks to Marrakech's strategic location, Merchants brought goods from all over Morocco, surrounding African countries and farther afield.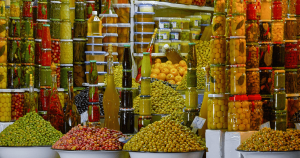 The various souks in Marrakech
the tannery souk:  Everything you need for tanning is sold here, including surprising items like pigeon droppings! This souk certainly has a 'distinctive' aroma. Nevertheless, it's a great place to discover the six steps of tanning: from the arrival of the skins, right up to the dying of the leather.
If you want to witness the production process, best to go early in the morning and climb up to the terrace of one of the local shops with a view over the tanneries. 
 Animal hide is processed in 3 stages. First, it is dipped in a solution of milk of lime for 7 days to get rid of the hair. Next, it is put in a vat full of bird excrement for 25 days. Then it is whitened with a cornstarch solution. Finally, the rough edges are cut off, the skins are left to dry, and dyed.
souk semata: The souk of Babouch (colored leather slippers), an impressive alley where there are countless merchants, slippers represent a thriving industry in Marrakech. and the majority of locals have several pairs, also in Morocco it is considered to be a user-friendly gift that is often made to friends or relatives. 
Souk of the tailors: the craftsmen work the yellow and red copper with remarkable skill.
Souk Semmarine: Located next to the city's main square, Jemaa al-Fnaa, is the largest and most popular one where you will find stalls selling everything from authentic bags, shoes, clothes, colorful textiles,  lamps, amazing selections of pottery, brass/metals, belts, and other genuine products; as a matter of fact, many of the goods sold here are manufactured onsite and have remained unchanged for centuries.
Souk Kassabine:  Rahba Kédima and spices market  
Souk Haddadine: blacksmith market, the place of blacksmiths and ironworkers. There, in the middle of the sparks of sparks launched by the blow lamps and the resounding sound of the hammer beat, the craftsmen, shape the metal to make elegant wrought iron grids, beds, tables, chairs, or everyday objects.
Souk Cherratines: saddler market, where you can purchase leather goods, here you will find all sorts of items including leather bags, purses, and wallets.
Souk Ahiak: fabrics, and clothing market.
 Souk Chouari: basket maker and woodturner market. wooden and turned wood objects, small furniture or skewers, board games, polished raw wood or painted in bright colors.
Souk Dlala: djellabas auction market.
Souk Zrabi: The carpet souk
Souk of  The  Bijoutiers: The souk of the jewelers
Souk Ableuh: The herbs and spice souk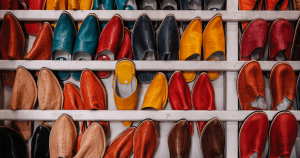 Souks Marrakech opening times
It Depends on the individual shop owners. Marrakech is a slow start in the main souk off the square but everything is generally up and running by 10h00. They start to shut down around 19h30 and by 20h30 the gates have been closed and the main souk is closed for the night. Souk shops close to the square stay open until the food stalls close down around 23h30.
How to navigate Marrakech souks 
 if you don't stay fairly close to the web of streets branching off Djemaa el-Fna, it's very easy to get lost in Marrakech's souks. The narrow alleyways, with overflowing items that snake off to more thin passageways with even more goods, can all start to look very similar. Many are covered too, making it even more difficult to get a good idea of where you are. 
Make it easy with a guide or tour, Wandering the souks with a local guide is the best way to explore if you're concerned about getting lost, especially if time is short. Make sure the guide is licensed. If exploring independently, 'souk map' is essential to avoid getting lost and many guidebooks provide a map for the souks however they may not have all the tiny lanes mapped. another option is to use Google Maps, if you don't have data all the time, try printing a map with the various souks highlighted, or download an offline version in Google Maps. Start exploring from the main square towards the different souks and Watch out for common scams such as fake guide offering to show you around and charge what they want after, a certified guide work only with travel agencies and is always booked ahead. You can book with a private guided tour here. or call us 00212618640567/EMAIL womenbesttravel@gmail.com
Don't forget to Look Up, There are signs in the souks, always giving directions to the main square in case you lost your way and want to go back. You just need to look up!. Also, you can keep an eye out for the Koutoubia Mosque and head in that direction. The mosque is not far from the mains square around five minutes walk.
Take a break drinking mint tea on the rooftop, The Djemma el-Fna is surrounded by terrace cafés where you can watch the street theatre down below – from snake charmers to juice sellers. and in the middle of the souks, there are many rooftops to take a break and enjoy the views. Café France, Le Grand Balcon du café glacier, Argana are terraces surrounding the souks and Café Des Épices, Shtatto is in the middle of the souk.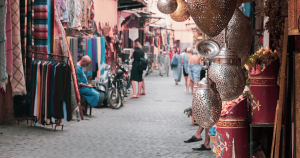 Learn to haggle
 Morocco is known by negotiation in the souk more often than the fixed price in the shop
I personally use this method in purchasing items in souks like Egypt's Khan el-Khalili bazaar and Grand Bazar in Istanbul, first, I don't buy anything on my first visit. I Stroll around and notice deeper, and after asking the different shops for the same item I get an idea about the basic price.
Only offer what the item is worth to you.
Don!t be too interested.
Walk away if what you feel the item is worth to you. You will often be chased after you leave.
Do not use any percentage of the offering price.
Look closely at the item and point out any defects. handmade, good quality items are in good shape and they have plenty of details.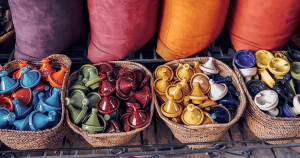 Ensemble Artisanal shopping at fixed prices in a relaxing atmosphere
The Ensemble Artisanal (Handicraft Centre) in Marrakech is a government-sponsored complex of artisan workshops established to teach their trade to apprentices and who at the same time also sell their creations direct to the consumer at fixed prices that are deemed reasonable.
the small shops in the Ensemble Artisanal don't offer as many goods as the souks, but you can get an idea of prices and qualities in a relaxed atmosphere without being permanently involved in sales talks. 
APPROXIMATE PRICE GUIDE FOR GOODS
Marrakech souk price guide
Here are some of the things to buy in Marrakech and the approximate prices for goods (in Moroccan Dirhams).
Olives: 30 DH for a big tub, 10 DH for a small one
A handloom cloth bag: 120 DH
Argan oil: 150 DH medium size bottle
Mojris/babouches [local ballerinas] : 70 – 100 DH
Abaya/Djellaba (traditional Moroccan women's attire): 100 DH- 300 DH depending on the quality.
Scarves : 20DH – 70DH each
Tagine : 20DH-50DH depending on size
Spices: The price varies from spices between 30DH and 60 DH per kilo, turmeric, cumin, ras el hanout (mixture "hide misery" as some call it) are among the least expensive.
Black soap: About 30 DH half a kilo in a plastic bag (more expensive in a waterproof plastic box).
Almonds, walnuts: 80-120 DH per Kg depending on the quality. Dates can be negotiated cheaper.
Shisha: From 150 DH for the little ones. Tobacco for shisha: 20 DH.
Woven hat: Between 10 and 15 DH.
Small pottery (for tapas, ashtray …): 20 DH if it fits in your hand. 30-40DH if a little larger.
Small wooden toys: Between 10 and 20 DH.
Small new teapot: 90-100 DH, cheaper if used.
Marrakech Souks Guide, Prices, opening hours, and Shopping Tips