Should I bring cash to Morocco?
Should I bring cash to Morocco?
i often get messages  from travelers flying into Morocco  Should i bring cash to Morocco. Here i will leave all the money and banking informations you need, and to answer this question is yes it is better to bring a certain amount of cash with you to Morocco as you can't use cards everywhere and they are rarely accepted outside of big cities and touristic places.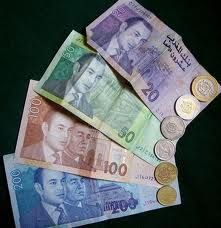 What you should know about the currency in Morocco
the local currency is the  Moroccan Dirham (MAD), Euros are also accepted in  hotels, restaurants and shops. bills starting from 20,50,100,200 and coins of half,1,5 and 10 dh, there are another  20 and 10 centimes coins that you won't need while traveling. The dirham is a closed currency technically you can't buy or sell it outside of Morocco.
How do you get cash in Morocco?
ATMs are the easiest way to get cash they are available everywhere in big cities while in small villages and towns they are hard to find, but keep in mind that in busy times especially in weekends cash machines may be out of service until they are restocked again.
BMCE (Banque Marocaine du Commerce Extérieur), Banque Populaire, BMCI (Banque Marocaine pour le Commerce et l'Industrie), Société Générale and Attijariwafa Bank all offer reliable service and you can find them everywhere in the big cities.
Exchange Rates 
| | | |
| --- | --- | --- |
| Europe | 1 € | 10,5  MAD |
| USA | 1 $ | 9,3    MAD |
| UK | 1 £ | 12,4  MAD |
| Canada | 1 C$ | 7,3   MAD |
| Australia  | 1 A$ | 6,4   MAD |
| Japan | 1¥ | 0,08  MAD |
| New Zealand | 1 NZ$ | 6,1 MAD |
You can check online for updated exchange rates.
Where to exchange money in morocco
you Can exchange money at the airport once you arrive generally the exchange rate is poor so it is better to change just a small amount, it is possible to change it also in hotels and they have also low exchange rates. The best place to change money is office change (Bureau De Change) they offer the best rates and you can easily find them everywhere.
In Marrakech there are two exchange offices where i recommend you to go if you are in the old medina look for Hotel Ali exchange office  in the square jemaa el fna, if you are in the newtown there is hotel Farouk office exchange not far from the plaza center.
Credit Cards and debit card 
Morocco is still  a cash based economy  don't expect to use your credit card everywhere, in big cities like Marrakech you can use it in big malls and shops however some restaurants even if they accept payment by card they require a minimum bill so you can use it your bill must be  more than 100 MAD (10 Euros).
You can use your credit cards in ATMs as i mentioned before, just keep in mind to inform your bank that you are traveling because when you use it abroad and they see unusual activity, the will probably block it until they contact you.