Rose Valley Morocco
Where is Rose Valley Morocco Located? 
Rose Valley gets its name from the countless gardens of pink roses, it is one of the most underrated places in Morocco and is a much less visited Valley compared to the Dades and Todgha valleys. The Rose Valley sits at the foot of the High Atlas Mountains in Morocco, where the mountains meet the Dadès Valley. It is irrigated by the Asif M'Goun river and its main village is Kelaat M'Gouna which itself is named after the nearby Mount Mgoun.
How to Go to Rose Valley :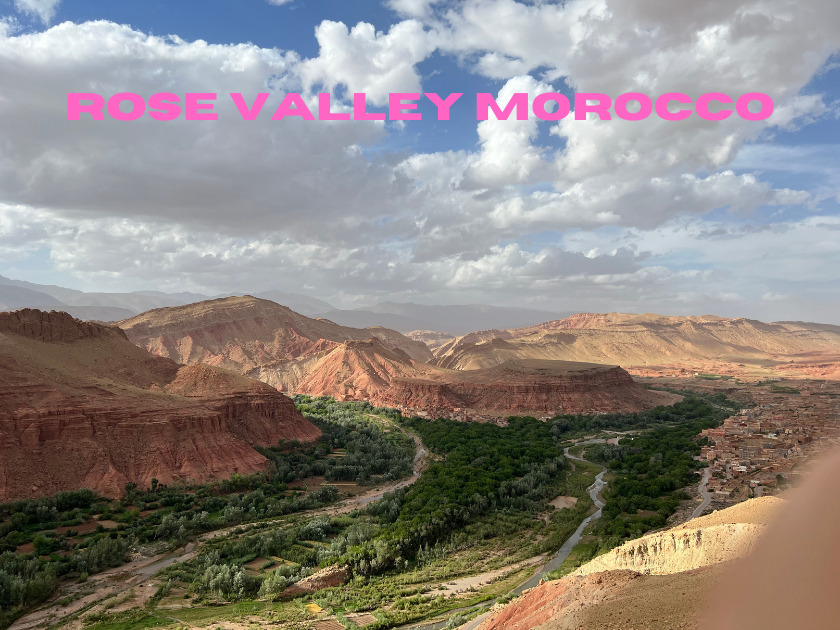 The valley is around 5 hour's drive from Marrakech and the best way to get there is to hire a car or go on a guided tour on the very scenic roads Crossing the hights atlas mountains and the famous mountains pass Tizi N Tichka, Once you reach Kelaat Mgouna there are plenty of small villages surrounded by rose farms, the most beautiful and most interesting to travelers, begins at Kelaat M'Gouna and continues along a secondary dramatic winding Road that climbs north to the village of Bou Tharar at its far end.
What to do in Roses Valley?
The best way to visit the rose valley is to combine it with a trip to the Sahara desert or if you like trekking, take multi-days tour walking along the riverbed, surrounded by steep ochre cliffs and passing by charming little authentic villages. 
2 Overnight part of a Tour around Morocco or Roundtrip from Marrakech
Day 1 :  Marrakech – Kasbah Atibenhadou – Rose valley (Bouthaghrar village)
Drive from Marrakech to Rose Valley, the road is fascinating crossing the high atlas mountains on a winding road and arriving to the famous UNESCO site of Aitbenhaddou, explore this traditional pre-Saharan habitat that is a fine example of southern Morocco architecture, ​​It is an extraordinary ensemble of buildings offering a complete panorama of pre-Saharan earthen construction techniques.  The site is famous to be a shooting site for many famous Hollywood movies such as Gladiator 1 and 2, Game of Thrones, and many more. after visiting Aitbenhaddou and lunch continue driving through Skoura Palmeraie to arrive At Kelaa Mgouna the center of Rose Valley and from there to Bouthaghrar enjoying the fascinating views.
Day  2 : Rose Valley Exploration Day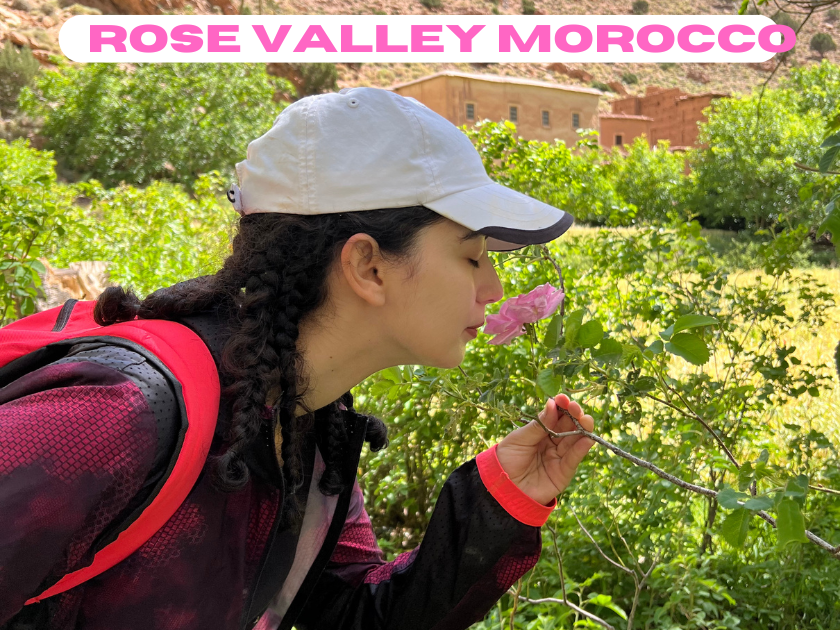 Start the day with a local breakfast, and after embark on a walking tour passing through Berber villages, meeting local people along the way. The walk takes approximately 5 to 6  hours, and the scenery is certainly worth the walk! Pass through agricultural land and learn about the produce grown in the region, end your day in Boutaghrar, and enjoy a delicious meal in the local guesthouse. 
Day  3: Rose Valley — Todgha Valley – Sahara desert 
After breakfast drive towards the Sahara desert, on the road stop to visit the fascinating Todgha gorges and valley, 
Day 4: you have two options: Sahara Desert – Draa Valley and back to Marrakech or from Sahara desert continue to Fes and northern parts of Morocco  
Trek through the rose fields and kasbahs: starting from 4 to 10 days Tours 
Roses Festival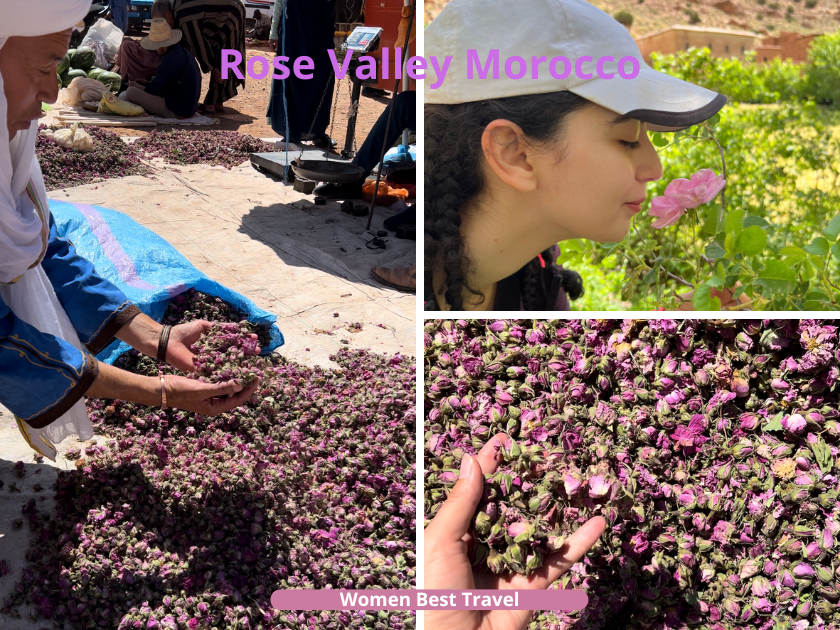 Each April and May the valley is flooded with local women picking roses to be shipped off to factories in nearby Kelaat Mgouna, Where they are turned into everything from shampoo to hand creams; cure-alls, and nasal decongestants.
these local rose products are the lifeblood of the rose valley community, and every year the region hist a  festival that celebrates the harvest of Roses, the festival has no fixed dates as it depends on the harvest of roses and weather each year is different, usually end of April or beginning of May. 
This annual Moussem last 3 days and is very interesting to watch the traditional Berber local tribes singing, and dancing, and you can try delicious food and the Rose Queen: An important part of the festivities is the election of a rose queen each year after a competition between ladies from a different rose-growing district, travelers and locals come from all over to attend the ceremony.