Which Morocco desert is best?
Which Morocco desert is best? Explore Morocco's Diverse Deserts: Your Guide to Choose Your Perfect Desert Adventure:
In Morocco there exists more than one desert and here is a complete guide for you on how to choose the desert option to include on your trip to Morocco.
While planning to visit Morocco, one of the highlights of the country is the desert. As a traveler  looking for information about the desert in Morocco, you may notice that there exist many deserts, each with a different name. Agafay desert, the sahara desert, Erg Chebbi desert or even Erg chigaga desert. In this article, we will try to answer all of your questions about this subject:
Which Morocco desert is the best one to visit?
Where is every Moroccan desert located ?
What's the difference between Agafay and the Sahara desert?
Is Agafay part of the Sahara desert ?
Which Moroccan city is the closest to the desert ?
Which desert is worth visiting in Morocco ?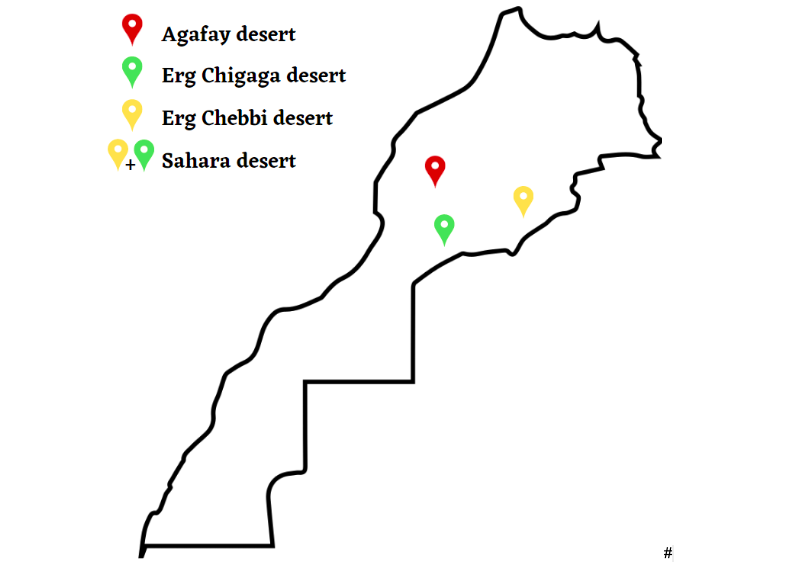 The map shows the location of the desert in Morocco and gives an idea on which cities are the most close to each. Agafay is near Marrakech, the Sahara desert is near Ouarzazate, Merzouga, Zagora, Tinghir, Dades and other cities that you pass by while visiting it.
Time is the first factor to take into consideration !
First of all, we will start by trying to locate the deserts of Morocco on the map to have some clarity. As seen on the map, Agafay desert is located next to Marrakech with about 45 minutes drive, whereas Erg Chebbi and Erg Chigaga are way further than Marrakech with around 8 hours drive. It is important to mention that what we mean by the Sahara desert is the combination of Erg Chebbi and Erg Chigaga and some other Ergs but the ones mentioned are the most famous as they have touristic infrastructure such as hotels and camps where you can spend the night.
From that we understand that to know which desert of Morocco to visit depends in the first place on the time you as a traveler have. For Agafay, you may only need one day or even a single evening to give it a visit but for the Sahara desert, you will need at least 3 days to give it a visit. 
Difference of landscapes of each desert:
It is clear for us now that Agafay is not part of the Sahara desert. There exists a huge difference between these two, mostly the topography and landscapes.
Which Morocco desert is best?
Agafay Desert:
In fact, the Agafay desert is not as famous as the Sahara desert. It is a rocky desert with a mesmerizing view of  the high atlas mountains. It is important to note that the Agafay desert remains the best option for travelers who don't have enough time but still want to experience some camel riding or quad, keep in mind that you won't find the sand dunes there as it has more moon-like landscape ressemblance. 
It is characterized by Hammadas that are an arid terrain of rocks and stones.
On the other hand, the Sahara Desert is characterized by Erg, which means large sand dunes. 
ADD PICTURE OF AGAFAY DESERT & SAHARA TEXTURE
The Sahara Desert:
Unlike Agafay Desert, the sahara desert is where you will find the high dunes of sand with stunning shades of brown. In the sahara desert you can enjoy camel rides, quad in the dunes and you will get the chance to stargaze at night in a desert camp under a virgin sky where there exists no light pollution. 
You may also want to read about the difference between Erg Chebbi and Erg Chigaga desert.