Morocco Map
Morocco Map: What really makes Morocco a special and unique destination for travelers is the culture and landscape diversity it offers. Each region is known for its own traditions and customs. Plus, while visiting the country you will get the chance to encounter different landscapes: mountains, beaches, and the desert all in the same trip. The map above shows the governmental division and in this article, we will resume the must-see regions of Morocco and cover all the cities you don't want to miss while visiting Morocco. Below you will find all the details you might need to know about the differences between each region. 
Morocco map is divided into 12 regions that are as follows: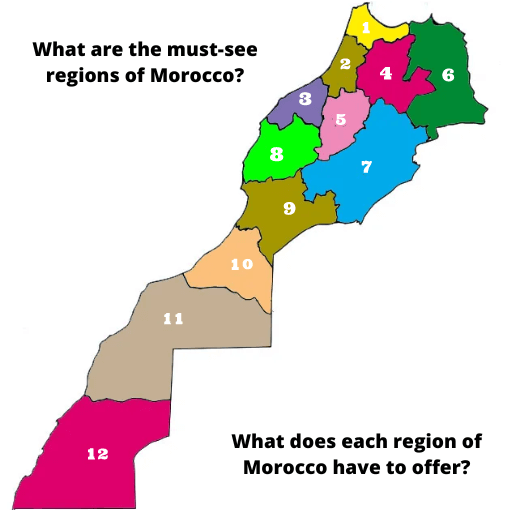 1- Region of Tangier – Tetouan 
This region is located in the northern part of Morocco. It is known to be influenced by European colonization. While being there you will notice the huge resemblance of the architectural aspects especially with the Spanish cities. The majority of locals of this region speak Spanish as Spain is only a few kilometres away. Their specialty of food is also different from the other regions, you will get to taste meals that combine Moroccan spices and European ones. You really don't want to miss visiting Tangier as it has a rich history and it is also where the Mediterranean meets the Atlantic Ocean. This region also includes Chefchaouen: the blue city. It is nicknamed that way because all its walls are blue. It is also located in the heart of nature. There you will get the chance to taste organic food and smell fresh and pure air. If you are looking for a coast escape mixed with cultural heritage and greenery, then this region should be part of your itinerary.
2- Region of Rabat 
This region is located in the northwestern part of the country. The capital of Morocco is Rabat. It is mainly known by the administrational aspect. However, if you wish to include Rabat in your itinerary, you will get the chance to visit some historical monuments there and dine in fancy restaurants. Rabat is where modernity and traditions meet. It is located near Casablanca, about 2:30 hours of driving, and looks somehow like it. You can visit Rabat in less than 4 hours if you are curious to see it. We often assure our travelers to not be bothered to miss it especially if they don't have enough time or if they have visited Casablanca as there doesn't exist a huge difference between the two of them.
3- Region of Casablanca 
This region is known to be the economic part of the country. It is where the majority of businesses are settled. It includes Casablanca and we often include it in our itineraries because it has the biggest mosque in Africa called Hassan II mosque which is certainly a must-see site. While in the region, you will get the chance to see the hustling and bustling culture. We call it New York of Morocco. Casablanca is known for its white walls and history. It is also characterized by its medina (medina = old city). So if you are wishing to visit a modern place, this is your place to be.
4- Region of Fez – Meknes
This region is a region we may allow ourselves to call the heart of Moroccan culture. It has two cities that have a huge potential to offer. First, we have the city of Fez, the spiritual city of the country. Fez is known to host the first university in the whole world: The University Of Al Quaraouiyine. Its medina is full of artisans, workshops, colours, monuments and everything of all kinds. You really don't want to miss this city while visiting Morocco. Moreover, this region has Meknes. Meknes has a UNESCO site called Volubilis that witnesses the traces of Romans back in time in Morocco. We always advise our travellers to include this region in their itineraries as it offers an authentic Moroccan experience. 
5- Region of Beni Mellal – Khenifra
This region is known to be in the heart of the mountain chain called the Atlas Mountains. It offers stunning views and breathtaking landscapes of nature. One of the places you would not want to miss if you plan to visit this region and have a nature break is Ouzoud Waterfalls. This can be your way to go if you desire to be among nature.
6- Region of Oriental
This region is so close to the borders of Morocco with Algeria and doesn't really offer something different you would drive all the way to visit. It is really far and requires long hours of driving. We often don't recommend doing it as it may be time-consuming unless you have enough time.
7- Region of Ouarzazate – Merzouga (also called Draa Tafilelt region)
This region is situated in the northern and eastern parts of Morocco. it includes many interesting cities to visit such as Ouarzarzat: the cinema city and Kelaat M'gouna: the valley of roses. Many other sites are to be explored as well as Draa Valley. Besides, It is where the Sahara desert starts showing. Without the need for any further explanation, if you wish to explore and wander in the desert, this is your place to be. The question that may come to your mind is what desert to visit as there exists more than one. Thus you can read and get more information on this article (link erg Chebbi and Cheggaga article here).
8- Region of Marrakech
As its name shows, this region is where Marrakech: the red city is located. This a region that also has lots of potential to offer. First, Marrakech is known for its vibrant atmosphere, its culture, art galleries and history. Visiting the Medina and the UNESCO sites there is a must. It also has coastal cities such as Essaouira: the wind and art city. It is a blue city known for argan oil. You don't want to miss the chance to get some of the rare argan oil made right in front of your eyes. This region is a real must-see region in Morocco. Travelers come especially for it.
9- Region of Agadir – also called Souss Massa region
This region is for travelers that want a pure nature escape either on the coast or the side of the mountains. First, we have Agadir, the surf city where people from all over the world come to practice this sport at. Located on the Atlantic coast, its beaches are perfect for nautic sports. The region also offers a variety of landscapes such as mountains and valleys where you can enjoy some trekking trips. In addition to that, you will get the chance to experience the life of locals and visit some nomads on the way in places that are still untouched.
10-11 Regions of Guelmim and Laayoune
These regions are so similar to the previous one (number 9) and are less populated due to the hot weather and lack of water that may be caused by the dryness. They are not touristic regions and even locals tend to go elsewhere for better living conditions.
12- Region of Dakhla
This region is for all types of travelers. It is different from all the other regions and unique in its own way. While being there you will be rooted in the Sahrawi traditions by getting an immersive experience in their culture. And if you are looking for some adrenaline-fueled water sports, Dakhla is your place. You will get the chance to do windsurfing, kitesurfing, and paddleboarding whether you are a professional or still a beginner. It is also a perfect place to clear your mind and practice meditation. The only disadvantage that may occur if you wish to visit this city is the distance with the lack of time. However, if you ever do so, it will be something that you will not regret.
Morocco Map