Visiting Morocco as a woman
Visiting Morocco as a woman, for all the female travelers out there dreaming about Morocco I know you have heard many things about the country some are true the others not. Here all what you need to know about visiting Morocco as a woman :
I have been working as a tour leader in Morocco for many years and all  the female travelers ask me the same question before coming to Morocco, is Morocco safe for female travelers ?
If you don't have a lot of travel experience definitely it is different for a women traveling in Morocco than traveling to a Western country. overall most well-traveled areas are quite safe .
Cat-calling and some lewd comments can be targeted frequently to both Moroccan and foreign women and the best response is to simply ignore those remarks, and sales people can be pushy to the extreme. Depending on where you're from, this will either not bother you at all or make you quite uncomfortable. What it shouldn't do is threaten you.
Don't wear anything flashy jewelry — A good universal rule,
keep your  valuables — Since pickpocket can happen , take the minimum you need when you leave your hotel or riad.
Always negotiate taxi prices before you get in
If you are approached and are uncomfortable, don't be afraid to say 'no thank you' and move on
Always hire a certified legal guides and don't accept tours from strangers or 'fake guides in the medina'
Carry small bills so  you don't have to get out larger notes
Dress appropriately – this is a conservative country here is a complete guide on what to wear when traveling to Morocco
Ask people before you take their picture – they may ask for money .
Try memorizing routes (or drawing a map) to avoid having your phone out all the time
Drink bottled water; ask for drinks without ice
Female Travel and Tours In Morocco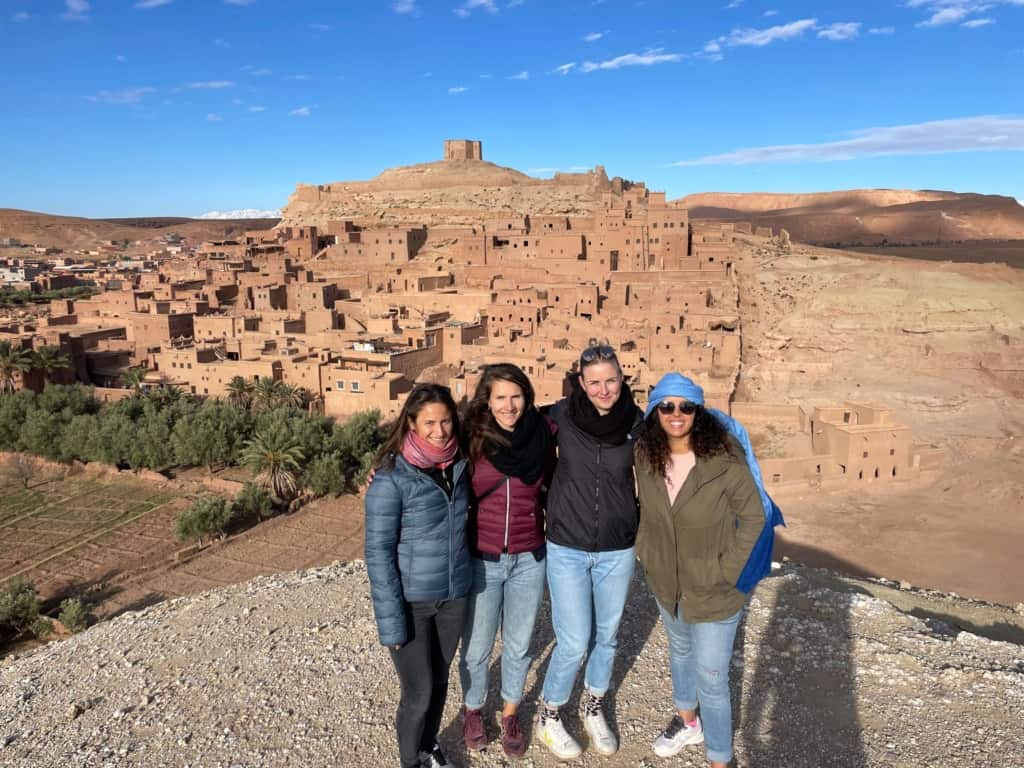 Women only Morocco Tour ,Including the most famous and untouched attractions in Morocco (Marrakech the red city, Ait Benhaddou Kasbahs, Skoura Oasis, Dades gorges, Todra gorges, Atlas Mountains waterfalls and Berber villages).
A mixed of culture and adventure to enjoy Moroccan beautiful landscape, meet the Berbers womens in the Atlas Mountains & nomads women in the Sahara desert.
Women Best Travel Sahara Desert Best Private Morocco Travel Agency for all the female travelers out there dreaming about Morocco. come join us for these life-changing adventure experiences that bring women together, take them out of their comfort zones to the most magical
attractions of Morocco from historical sites of the medina of Fes and Marrakech, Atlas mountains, Sahara desert  To sharing experiences with local women because we believe the best way to have a positive impact locally is through connecting and forming quality relationships. We do our best as a local team to create a sustainable change for women in our country. Doing so helps us create experiences that will truly be of value for everyone we look forward to maintaining the genuine culture of local communities in Morocco and. our hope is to remind our intangible heritage through our sustainable journeys.
 Connecting women with each other, empowering them to learn more about the world, and themselves.
Explore our Culture, get off the beaten path, and build meaningful connections with local women.

Strengthening the values of a civil society aiming at achieving a fruitful sustainable development.
Charity: Giving back and making a difference in the causes women care about.
Personalized  Women Best Travel Sahara Desert Best Private Adventure Travel
what you need to know before visiting Morocco "a woman's guide to Travel Morocco"
Visiting Morocco as a woman what you need to know 
Languages: The official languages in Morocco are Classic Arabic and Tamazight (Berber), though almost 70% of the population are Amazigh, mostly in rural areas, Sahara and the mountains. However French is taught in the schools and is often used in commerce and business. Around Tangier, there will be many people who can speak Spanish, due to the proximity of Spain and Spain's past colonisation in the north. Woman's Guide To Travel Morocco essential arabic language and French
Religion: Morocco is an Islamic country (approximately 98% of the country is Muslim) 1 % among Jewish,Christian and Buddhists. Muslims are expected to pray 5 times per day, with the first call to prayer at dawn (the call to prayer nowadays coming from speakers on the minaret of the mosque. Friday is the Muslim holy day and shops or market stalls are likely to close around mid-day. Muslims are not expected to drink alcohol (though you will find alcohol available, eat pork (becoming available for tourists) During the month of Ramadan (this does not coincide with a particular calendar month and it's date moves forward approximately 10 days each year), Muslims do not eat, drink or smoke during the day. They are however tolerant of non-Muslims or tourists who feel a need to eat. Those people should however avoid eating or drinking in public view. Most places are likely to be quieter than usual during the day in Ramadan, with many restaurants being closed and shops having removed alcohol from the shelves. Things will however come to life in the evening. read more Morocco Travel Advice
Money: The Moroccan Dirham (DEE-rahm) goes for roughly 9.6 Dirhams (DH) per 1 USD or 10 per 1 euro.
The mosques and Shrines:  Most mosques are normally out of bounds to non-Muslims, except Hassan II Mosque at Casablanca which open its doors to visitor tourists at certain times of the day. read more Morocco Travel Advice…
Moroccan Hospitality:  Moroccans are a very open minded and hospitable race, it is a tradition to welcome and respect travellers, stranger would be fed and watered in the knowledge that the person offering the hospitality.
Moroccan Hospitality:  Moroccans are a very open minded and hospitable race, it is a tradition to welcome and respect travellers, stranger would be fed and watered in the knowledge that the person offering the hospitality
Health: Tampons can be hard to buy in Morocco. Carrefour is the only dependable supermarket to stock them, and even then offers limited choice. You'll need to take along a plastic bag for disposing of tampons and pads.
Consider What You Wear
Most of the questions female travelers ask me is about Morocco dress code, In Morocco there is no law or  dress code,  you CAN wear whatever you want especially  in big cities. BUT, you also should consider that the less you wear, the more attention you'll draw, Dress in a way that is respectful to the local population.
Visiting Morocco as a woman