Majorelle Garden
Majorelle Garden
A quote from Saint Laurent welcomes visitors: "Marrakech introduced me to color . . . although I was used to the light and the colors of North Africa, it was only later, when I discovered Morocco, that I understood my colors were those of zellige mosaics, zouacs, djellabas and caftans. For whatever daring things I have done since then, I am indebted to the country, to the violence of its harmonies, the insolence of its mixtures, the intensity of its inventions."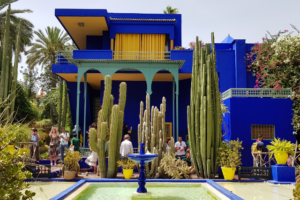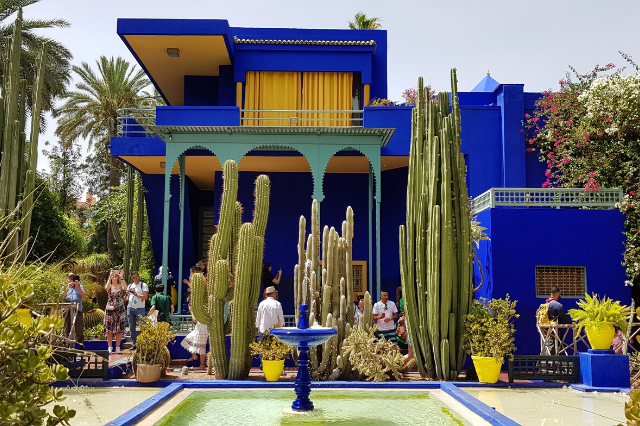 Majorelle garden is One of the most visited sites in Marrakech also known as Yves Saint Laurent gardens, it took French painter Jacques Majorelle (1886-1962) forty years of passion and dedication to create this enchanting garden in the heart of the "Ochre City", During his travels, he brings back plants from all over the world or exchanges with correspondents like him passionate about botany, hundreds of plants : bamboos, cacti, coconut trees, willows, palm trees, thuyas, jasmines, water lilies, agaves, carob trees, bougainvilleas, daturas, cypress trees, ferns…,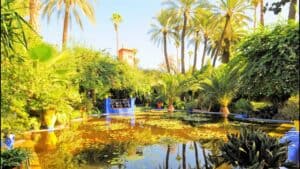 Jacques Majorelle said: "The painter has the modesty to hold this pen of green flowers for his most beautiful work". He speaks of it as "the vast splendours whose harmony I orchestrate (…) This garden is a terrible task, to which I give myself entirely. He will take my last years and I will fall exhausted, under his branches after having given him all my love.
 Since 1980 the garden is owned by Yves Saint Laurent. The garden covers nearly two and a half acres and contains a psychedelic desert mirage of 300 plant species from five continents. At its heart lies Majorelle's electric-blue art deco studio, home to the Musée Berbère, which showcases the rich panorama of Morocco's indigenous inhabitants through displays of some 600 artifacts. fashion designer Yves Saint Laurent, featured the Majorelle gardens in the 1997 Chelsea Flower Show in London made it famous abroad, Since this time, many have journeyed to Morocco just to see the Majorelle Garden.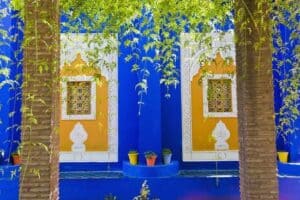 Yves Henri Donat Mathieu-Saint-Laurent, known as Yves Saint Laurent was born on August 1, 1936, in Oran, Algeria. Laurent became a fashion designer and was considered one of the greatest figures in French fashion in the 20th century. He was one of the most celebrated and influential designers of the past twenty-five years. During the 1960s and 1970s, Saint Laurent was considered one of Paris's "jet set". He was often seen at clubs in France and New York such as Regine's and Studio 54. When he was not actively supervising the preparation of a collection, though, he spent time at his second home in Marrakech, Morocco.
With the garden, there are the over fifteen different species of birds, such as turtle doves, bulbuls, and house buntings. With its beautiful groves of bamboo, date palms, and various lily covered pools, it is little wonder why these marvelous creatures choose Majorelle Garden as their home.
Majorelle garden entry fee
The entrance fee to Majorelle gardens is 70 Dh (Around 7 €), if you are a Moroccan citizen it is 40 Dh, and admission to the museum an additional 30 dirham. Kids under 12 are free. Possibility of Combined Ticket mYSLm Yves Saint Laurent Museum + Majorelle Garden – Warning: mYSLm closed WEDNESDAY
Is Majorelle gardens worth it
The Marjorelle garden, and the Bedouin Museum inside, is definitely  worth seeing, especially if you love gardens, it it would be a pity to miss Majorelle.
best time to visit Jardin Majorelle
 Be sure to be there right at the opening time first thing in the morning. preferably before opening time, to make sure that you avoid a long queue. In doing that, you would not cut too much into your day and have more time for the other sights you wish to see. To the best of my knowledge, there is no way to buy tickets in advance.
Majorelle garden open every day of the year
October 1st to April 30th: 8am to 5 :30pm – May 1st to September 30th: 8am to 6pm
Ramadan Month: 9am to 5pm
The Berber Museum of the Majorelle Garden
Jacques Majorelle beautifully captured the emotions, colors, and spirit of the Berber culture in his artworks, many of which are displayed at the Berber Museum. Other items on display include traditional handcrafted items in leather, pottery, basketry, and woodworking. Decorative geometric patterns are very evident in household and decorative items, as well as those used in rituals. Ornaments and jewelry on display include intricately crafted headdresses, brooches, necklaces, and earrings. Materials and techniques used in creating jewelry are varied, with filigree, engraving, carving, enamel-work, and molding producing unique items. Depending on the region and local availability, jewelry incorporates silver, coral, amber, and amazonite.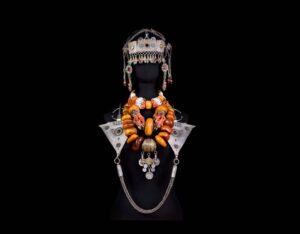 Pierre Bergé and Yves Saint Laurent are personally interested in Berber culture. More than 600 objects from the YSL-PB collection are on display at the Berber Museum.
If after exploring the Majorelle Garden, you still feel compelled to see more of Marrakesh's botanical beauty, there are a few other gardens worth the visit. 
Jardin secret/ secret garden 
Le Jardin Secret is actually two gardens joined by a narrow linking path. The first is the Exotic Garden which has plants from all over the world from South Africa, Madagascar, Australia, and Latin America. It recalls the Garden of Eden with colorful blooms, bird song, and water trickling from fountains and channels which irrigate the garden and provide water for the hammam.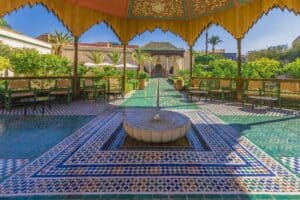 Anima Garden
Nestled in the foothills of the High Atlas Mountains 30 kilometers from Marrakech city center, Anima Garden is a space designed by multimedia artist André Heller and contains a variety of exclusive artworks that fill the enormous botanical garden with vivid colors, Surprising sculptures referencing local and international themes, pathways and flowerbeds filled with wildflowers, cacti, water features, palm trees, and tall grass. The on-site cafe serves light food, sweets, and an array of hot beverages.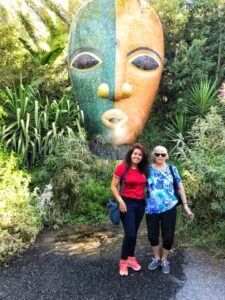 Prepaid SIM Cards, Mobile Data, And Phone Calls, Staying Online In Morocco
Saadian Tombs Marrakech Opening Hours Location And Entrance Fees
Marrakech Souks Guide,Prices,Opening Hours, And Shopping Tips
El Badi Palace Opening Hours Price And Location In Marrakech
Women Best Travel is a female-owned company that specializes in Morocco travel, we Arrange for you to Discover "exclusive and personal" experiences. You'll see what the regular bus Group tours don't show and what the tour agents may not know about, taking you beyond the standard tours. we combine Culture, History, Berber Culture, architecture, history, and storytelling in one powerful experience of Morocco that no other tour company can match.